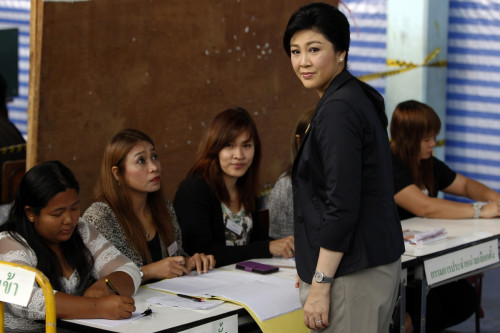 Security measures have been beefed up across Thailand as voting begins in the snap election.
The main opposition Democrat Party has boycotted the election and vowed to disrupt the polling peacefully, yet there remains a fear that violence could erupt at any time
According to reports, the situation remains calm, but there is a widespread feeling of unease. On the eve of polling day, seven people were injured as gunfire and explosions rocked the northern part of Bangkok.
Polling stations opened at 08:00 (01:00 GMT) and will remain open until 15:00 (08:00 GMT).
Interim Prime Minister Yingluck Shinawatra, who was forced to call the election following anti-government protests, cast her vote amid tight security.
"Today is an important day. I would like to invite Thai people to come out and vote to uphold democracy," Yingluck said after voting.
The security agencies claim they are confident that there will not be any major clashes or riots while the polls are open. Nevertheless, fear of violence could scare voters away from polling booths.
At least 130,000 security personnel have been deployed across the southeast Asian nation, 12,000 of them in Bangkok alone, to ensure the election goes smoothly.
"The situation overall is calm and we haven't received any reports of violence this morning. The protesters are rallying peacefully to show their opposition to this election," National Security Council chief Paradorn Pattanatabutr told Reuters.
Several parts of Thailand, including districts in Bangkok, have been reporting blockades by opposition parties, preventing movement of voters.
"We're not blocking the election. We're postponing it. We still need an election, but we need reform first," 42-year-old English teacher Nipon Kaewsook said.
There is also the possibility of the election being declared null and void, even if it ends on a peaceful note. Court petitions to declare elections void have happened in the past.