Margaret Thatcher Funeral: Protesters 'Planning to Ambush TV Reporters and Hurl Bottles of Milk'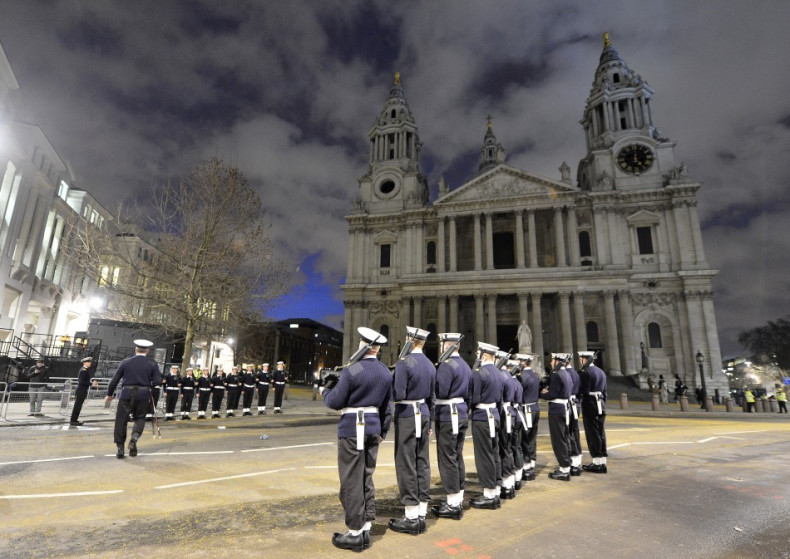 Hordes of protesters plan to disrupt the military funeral of Baroness Margaret Thatcher in scenes which threaten to overshadow the occasion tomorrow.
Up to 300 people are set to turn their back on the flag-draped coffin containing the former prime minister's body when it passes by the South African embassy in Trafalgar Square.
There were also reports of a 'protest party' at St Paul's Cathedral, where the funeral service takes place.
A bizarre protest could see bottles of milk hurled in the path of the horse-drawn funeral cortege, which will be accompanied by members of the military on its journey to St Paul's Cathedral from Whitehall. Thatcher's first ministerial position was as Secretary of State for Education in the Heath government of the early 1970s. She is most remembered for ordering the removal of the free school milk provision, earning her the monicker, 'hatcher the milk snatcher.'
Since Thatcher's death from a stroke in the Ritz Hotel last week, there has been a bitter debate raging over how to the mark her passing.
More than 4,000 police officers are expected to patrol the occasion. Police are reportedly mulling over pre-emptive arrests to foil protests - though none had been made less than 24 hours before the start of the parade.
The huge policing operation sees the Met working with the City of London Police and the British Transport Police.
Guerrilla protests
A series of guerrilla protests being planned on social media sites include protesters ambushing TV crews broadcasting live from the scene.
Critics of Thatcher could yell slogans near cameras or get close to reporters presenting live on air, in order to get their anti-Thatcher message across to the millions of viewers expected to be tuning in to watch.
A series of protests are planned around the country, including to burn effigies of Thatcher on huge bonfires. Organisers on social media sites spoke of burnings being more difficult to target and prevent for police.
Protesters who plan to turn their back on Thatcher have received police permission to carry out the gesture. Scotland Yard refused to reveal how applications had been received and declined.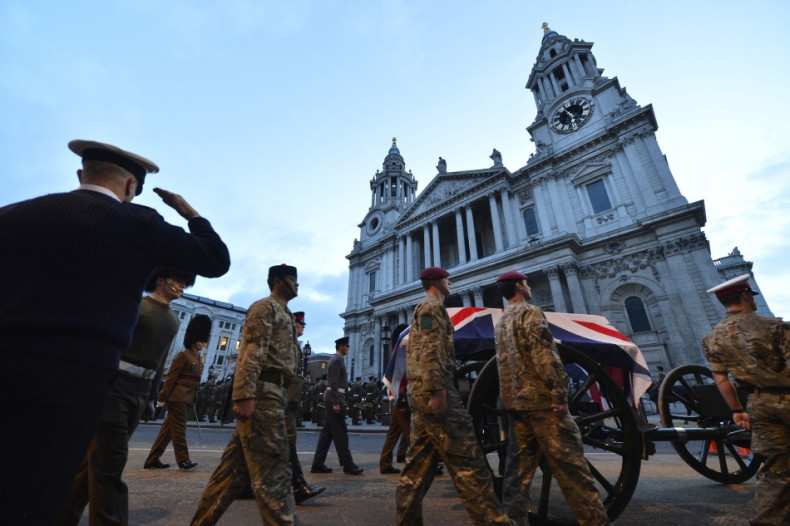 Rebecca Lush Blum is set to turn her back when Thatcher's flag-draped coffin passes the South African embassy on a horse-drawn gun carriage. She said it was in protest against Thatcherism's legacy and the £10m price-tag of her funeral.
The location relates to the accusation that Thatcher was an apologist for apartheid during her tenure in Downing Street.
"So far, the police have bent over backwards to be ultra-reasonable. I want to perform a peaceful 'back-turning' protest but I want to do it as far away as possible from mourners. That's mostly agreed with the police - the last thing I want to do is be part of a confrontational demonstration but I want to exercise my right to protest peacefully," said Blum.
"I think she actually destroyed this country.
"I wanted to do something that was dignified and peaceful. I spoke to a number of officers and I've received assurances that this protest will not be problem as long as it remains peaceful. It is sad that I have to seek these assurances but I'm a mother and I cannot take the risk of being kettled or corralled for hours on end."
Managing protests on the day is likely to be a balancing act for the authorities. A number of public order laws must be weighed up alongside people's right to protest in accordance with the Human Rights Act.
Section 5 of the Public Order Act 1985 makes it an offence to use "threatening, abusive or insulting words or behaviour" likely to cause "harassment, alarm or distress." A long-running campaign to remove 'insulting' from the legislation, succeeded earlier this year in parliament.
Commander Christine Jones said: 'The policing operation for the funeral of Baroness Thatcher will see officers deployed in a range of functions appropriate to meet the demands of the overall policing operation.
'We will be deploying a number of officers at points along the route, and there will be road closures in place. If you are planning on travelling into London, please plan your journey and allow plenty of time.
'We have been approached by a small number of people planning to protest. We are working with them, and would ask anyone who plans to protest to come forward and speak with us today.
'We will continue to review our intelligence and evidence picture, and although to date no arrests connected to the Ceremonial Funeral have yet been made, should the need arise to arrest those who are committing acts of crime or violence, or conspiring to do so, we will respond accordingly.'