Dancing on Thatcher's Grave: Brixton's Iron Lady Death Party Ends in Looting and Arrests [VIDEO]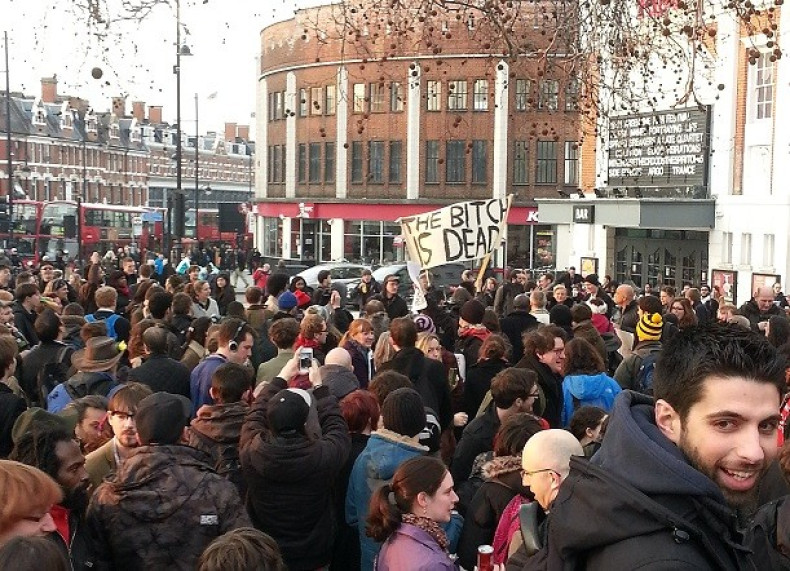 An impromptu street party to celebrate Margaret Thatcher's death span out of control with a charity shop attacked, clashes with police and a number of people arrested.
About 100 people were out on the streets in Brixton in south London to cheer the death of the former prime minister, who died from a stroke.
A noticeboard at the famous Ritzy cinema was hijacked by partygoers who swapped the letters on it to read 'Margaret Thatcher's Dead'.
Smashed glass was strewn over the street after the window of charity shop Barnardos was kicked in. Two women were arrested on suspicion of burglary and were held overnight in police cells.
Police officers were attacked, said witnesses, with extra numbers drafted in to stop revellers spilling out on to the roads and blocking traffic.
IBTimes UK reporter Ewan Palmer was at the scene. He said: "There was the notion that this morbid celebration has been planned in thousands of people's heads for more than 30 years.
"Police stood by and watched as more and more people arrived with their drink and banners mocking her death. Shouts of 'Maggie, Maggie, Maggie! Dead, dead, dead!' rang around gleefully.
"Chalk was handed out so people could graffiti their own message on the ground and surrounding walls.
"There were even two guys playing double bass and acoustic guitar in the crowd for a singalong. At the start of the evening, the whole thing resembled a middle-class music festival more than a raucous demo.
"Almost inevitably after a few hours of people drinking in the streets, this escalated into scenes of unrest between people and riot police, resulting in arrests and even serious injury."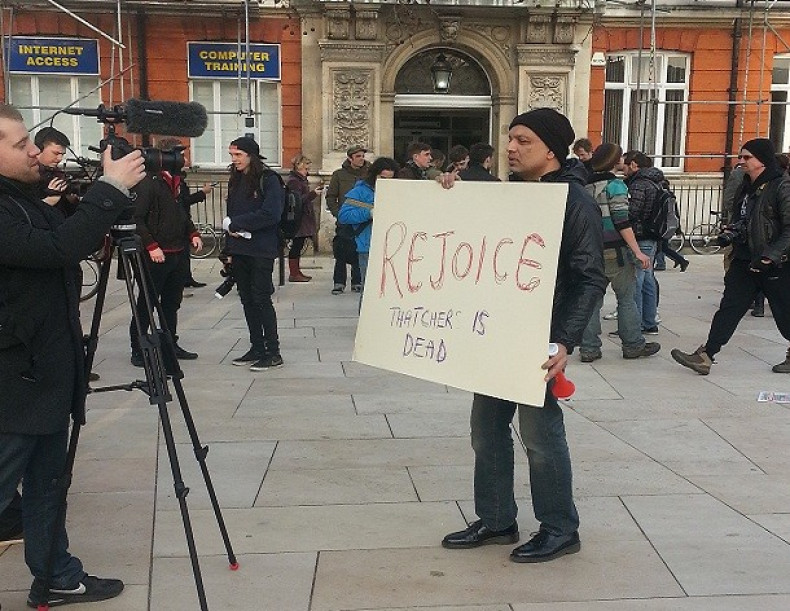 The revellers downed alcohol and brandished placards reading "The bitch is dead" and "Rejoice! Thatcher is dead" Many revellers appeared younger than the 23 years which have passed since Thatcher left office.
A Scotland Yard spokesman said: "Police dealt with a group of approximately 100 people in Brixton who caused low-level disorder, including throwing missiles at officers.
"In order to protect the community and to ensure the highways remained clear, extra officers were deployed."
READ:
Margaret Thatcher Dies: Ding Dong The Witch Is Dead Heading For Number One
Thatcherism: Why the Iron Lady's Legacy is not Bigger than the Conservative Party [BLOG]
Dementia: Margaret Thatcher's Death 'Merciful,' says Norman Tebbitt
Thatcher: Iron Lady Loved and Loathed - The Hillsborough Legacy
Margaret Thatcher Death: White House to Port Stanley - Tributes from Overseas