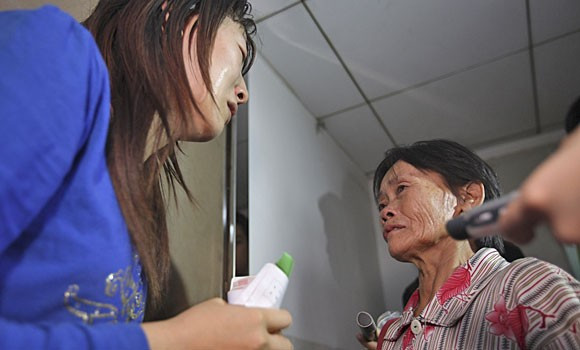 Millions around the world have offered their condolences to the parents of Yueyue, a two year old girl who died after she was struck down by a van, who was ignored by 18 passers-by as she laid dying in the street.
Doctors had earlier said YueYue, who had been in a coma since the incident on 13 October, was unlikely to survive.
She was struck down Tuesday evening on a busy Chinese street and was left for dead by the passers-by all of whom saw the child and did nothing to aid the tiny victim.
The CCTV footage shows one by one the girl being passed by as she lies visibly motionless on the road bleeding ferociously. The first is a man in his mid-twenties wearing a white t-shirt and trainers who walks within a foot of Yueyue but fails to barely notice without a second glance.
Next came a cyclist, who swerved to avoid hitting the dying child, turning his head back of a second, almost out of curiosity, but then continued his journey.
Another driver and pedestrian clock the girl, with the pool of blood growing ever thicker into the gutter, but people widen the walk around and move on.
Having seen 18 people on the CCTV footage heartlessly avoid the little person finally the 19th passer-by, a 58-year old street cleaner Chen Xianmei, lifts the lifeless body and alerts the girl's mother who is seemingly only metres away.
Although the tragedy caused outrage some have blamed China's compensation culture for the apparent show of callousness, recalling a famous 2006 judgment when a Good Samaritan who helped a woman get to hospital was wrongly ordered to pay her compensation.
"They didn't ignore the girl, they just didn't dare help her," said one comment among many that said that Chinese law had helped create a fear of intervening.
But this sentiment was very much in the minority and that the scenes in the video should "shake the soul of every conscientious person" in China.
"Even if the passers-by couldn't rescue her, they could dial 120 and 110 [China's emergency numbers] and help to stop vehicles, then the little Yueyue wouldn't have been run over by the second car," said another comment posted by 'Dull Baby'.