There's a fake photo circulating with Trump and world leaders fawning over Putin at G20
It's been Photoshopped.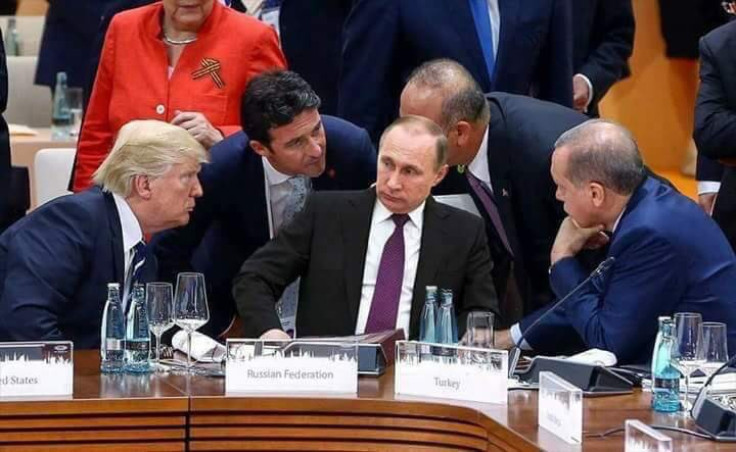 A doctored photo is doing the rounds on social media which shows Russian President Vladimir Putin being fawned over by world leaders.
The original image, taken at the G20 Summit in Hamburg, actually shows US President Donald Trump speaking to Turkish President Recep Tayyip Erdogan and Turkish Prime Minister Mevlut Cavusoglu over an empty chair.
But the Photoshopped picture shows Vladimir Putin sitting in the middle of the group - where he appears to be being addressed by the various heads of state.
Trump, in particular, is especially up close and personal with Putin in the photo.
Several social media users picked up on the fake photo straight away, with one commenting that the size of the Russian President's head gave the game away.
The G20 Summit saw Trump and Putin meet for the first time, with a video shared widely on social media showing the two men shaking hands.
Both Trump and Putin have said they will seek to improve relations, which had deteriorated following disagreements over the Syrian conflict and the crisis in Ukraine. The US has also accused Russia of interfering in the 2016 Presidential election.
After meeting Trump, Putin told a news conference that his American counterpart was "radically different" from the Trump portrayed on television.
"I don't know how this will sound but I'll say what I see: Trump on TV differs very strongly from the real person," the Russian President said.
Meanwhile, Trump described the encounter as "tremendous" before meeting other world leaders, including British Prime Minister Theresa May and President Xi Jinping of China.
© Copyright IBTimes 2023. All rights reserved.