Prime Minister Theresa May has pushed through a multimillion pound fighter jet deal with Turkey despite President Recep Tayyip Erdogan coming under fire for human rights abuses. On Saturday 28 January, May became the first head of state to visit Turkey since a failed coup attempt last July.
Since then Erdogan has faced global criticism for a nationwide crackdown which has seen tens-of-thousands of the regime's alleged opponents arrested for allegedly being involved in the attempt to overthrow the government.
Now May has given her blessing to a £100m ($125m) deal that will see BAE Systems build a new generation of TF-X fighter jets for Turkish Aerospace Industries.
The deal, the British PM hopes, could serve as a benchmark for further contracts that could lead to billions of pounds worth of business.
The announcement made in Ankara has seen a 'Heads of Agreement' signed, establishing a partnership for the development of the Turkish Fighter Programme or TF-X for the next 20 years.
May said: "It marks the start of a new and deeper trading relationship with Turkey and will potentially secure British and Turkish jobs and prosperity for decades to come."
Fresh from a two-day visit with new US President Donald Trump she did urge Erdogan to uphold human rights and the rule of law.
In a statement, she said: "I'm proud that the UK stood with you on the 15 July last year in defence of democracy and now it is important that Turkey sustains that democracy by maintaining the rule of law and upholding its international human rights obligations as the government has undertaken to do."
The failed coup last year saw the Turkish President enforce a state of emergency, ordering a wave of arrests of lawyers, military personnel, teachers and journalists. The purge led to the closure of numerous media outlets and the removal of thousands of public officials with the coup blamed on US-based Islamic cleric Fethullah Gulen.
In total Erdogan and his loyalists are believed to have purged over 100,000 military officials, police officers, judges and governors and arrested over 30,000 in the weeks following the coup.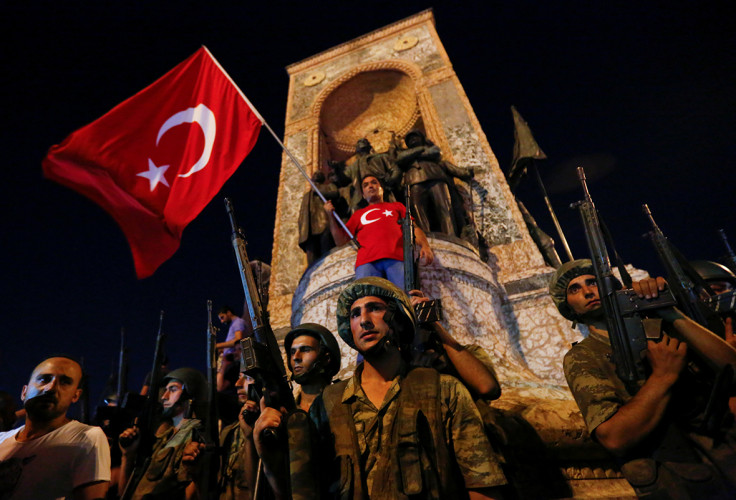 A spokesperson for Downing Street told the Independent: "The response to the coup is that the UK has expressed strong support for Turkey's democracy and institutions following the coup. But have also been very clear that we urge Turkey's response to be proportionate and in line with international human rights obligations."
According to Amnesty International the human rights situation in Turkey had "deteriorated markedly" since the military attempt to overthrow the government. Kate Allen director of Amnesty said that the charity had "disturbing evidence of widespread torture".
The UK has also faced criticism for signing off £3.3bn ($4.1bn) in arms exports to Saudi Arabia since the start of its brutal offensive in Yemen, where the Ministry of Defence (MoD) has noted 252 alleged violations of international humanitarian law.
BAE Systems chief executive, Ian King, said: "BAE Systems is a leader in designing, manufacturing and supporting fighter aircraft and is in an excellent position to contribute technical and engineering expertise and experience of managing complex projects to this key Turkish programme.
"The announcement signals an exciting next step in relations between both Turkey and the UK with the co-operation between BAE Systems and TAI paving the way for a deeper defence partnership. The agreement confirms ongoing collaborative work on the design and development of the aircraft."