Theresa May: British military trainers to be sent to Jordan to help defeat Isis
The PM will discuss terrorism, trade and the Syrian refugee crisis during a 3-day visit to the Middle East.
Theresa May is travelling to the Middle East for a three-day trip with one eye on tackling extremism and another on building Britain's future trade ties after triggering its exit from the European Union (EU) last week.
The prime minister will be in the Jordanian capital, Amman, on Monday (3 April) where she is set to announce that military trainers will be despatched to the country to support the Royal Jordanian Air Force (RJAF) in the fight against the Islamic State (Isis).
Training will take place in the Gulf nation and the UK to improve the RJAF's capability "to strike at the heart of Daesh [an Arabic acronym for Isis]."
Following the Westminster terror attack on 22 March, May is expected to say it "showed only too starkly that terrorism is an evil facing us all and we must come together to fight it".
May will also discuss humanitarian efforts as Jordan, where 657,000 Syrian refugees are registered with the United Nations (UN).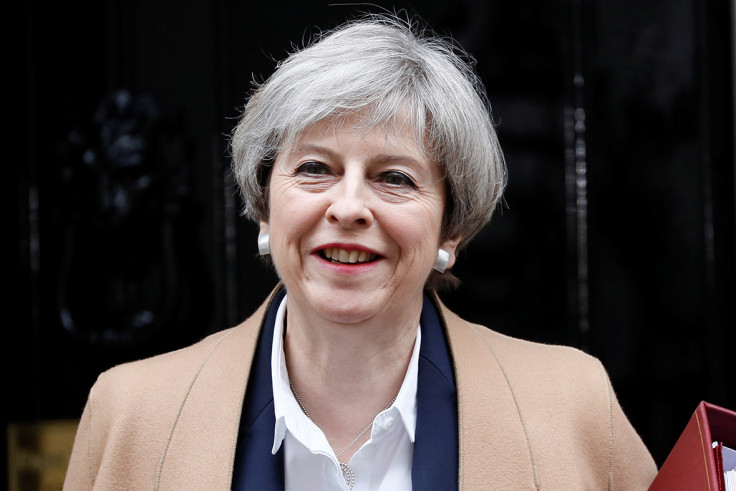 The prime minister will then move on to Saudi Arabia on Tuesday (4 April) to strengthen trade and security ties as Britain prepares for life outside the EU. The oil giant is Britain's largest trading partner in the Middle East, importing £6.6bn ($8.3bn) of goods and services in 2015.
Speaking ahead of her visit, May said: "As the United Kingdom leaves the EU, we are determined to forge a bold, confident future for ourselves in the world.
"We must look at the challenges that we, and future generations, will face and build stronger partnerships with countries that will be vital to both our security and our prosperity.
"It is clearly in the UK's security and prosperity interests to support Jordan and Saudi Arabia in tackling regional challenges to create a more stable region, and in delivering their ambitious reform programmes to ensure their own stability.
"An even deeper partnership with these countries, and greater knowledge and understanding of one another, will increase our ability to address the issues that concern us, including the promotion of international standards and norms.
"To tackle the threats we face from terrorism and from geopolitical instability, we must meet them at their source.
"Jordan is on the frontline of multiple regional crises and I'm clear that by working with them, we are helping keep British people safe.
"Likewise in Saudi Arabia: we must never forget that intelligence we have received in the past from that country has saved potentially hundreds of lives in the UK.
"And there is so much we can do together on trade, with immense potential for Saudi investment to provide a boost to the British economy.
"So I hope my visit will herald a further intensification in relations between our countries and deepen true strategic partnerships, enabling us to seize the opportunities ahead and ensure the security and prosperity of our people for decades to come."
The prime minister has repeatedly been challenged on the sale of British arms to Saudi Arabia, which has been accused of human rights violations in Yemen.
Since Saudi Arabia and its allies launched an air campaign in Yemen in March 2015, the UK has approved £3.3bn ($4.1bn) worth of arms to the Kingdom.
Last month, Amnesty International said: "Since the conflict began two years ago in March 2015, the US and UK have together transferred more than $5bn worth of arms to Saudi Arabia which is leading the military coalition in Yemen.
"This is more than 10 times the estimated $450m that the US State Department and the UK's Department for International Development have spent or budgeted to spend in aid to Yemen over the past two years."
Lynn Maalouf, Deputy Director for Research at Amnesty International's Beirut regional office, added: "Weapons supplied in the past by states such as the UK and USA have been used to commit gross violations and helped to precipitate a humanitarian catastrophe.
"These governments have continued to authorise such arms transfers at the same time as providing aid to alleviate the very crisis they have helped to create. Yemeni civilians continue to pay the price of these brazenly hypocritical arms supplies."
© Copyright IBTimes 2023. All rights reserved.