Yemen war second anniversary: Tens of thousands protest against Saudi intervention in Sana'a
The protesters waved national flags and condemned Saudi Arabia and the US for the ongoing war.
Tens of thousands of Yemenis marched in capital Sana'a on Sunday (26 March) to protest against the ongoing war in the country and Saudi Arabia's intervention in the conflict. It has been two years since a Saudi-led coalition started an anti-Houthi campaign to bring back exiled President Abdrabbuh Mansour Hadi to power.
The rally was organised by Houthi rebels who support former president Ali Abdullah Saleh – who ceded power in 2012 following an uprising that began in 2011.
According to reports, more than 100,000 people including members of Saleh's General People's Congress (GPC) party gathered at Sabeen Square in central Sana'a.
The protesters waved the national flag and condemned Saudi Arabia and the US for the ongoing war. Some carried placards that read: "Steadfast" and "End Siege on Yemen".
"This is a message to the world to tell everyone that despite two years of war; the Yemeni people are still victorious, still alive and still love peace," GPC leader Essam al-Abed said.
"The battle is still fierce and the war will not end without a victory for the truth and justice," Saleh al-Samad, chairman of the ruling council comprising members of Iran-aligned Houthis and GPC, said while addressing the crowd.
The former president Saleh, who has not been seen in public since he was forced to vacate office in 2011 also attended the rally and addressed the crowd.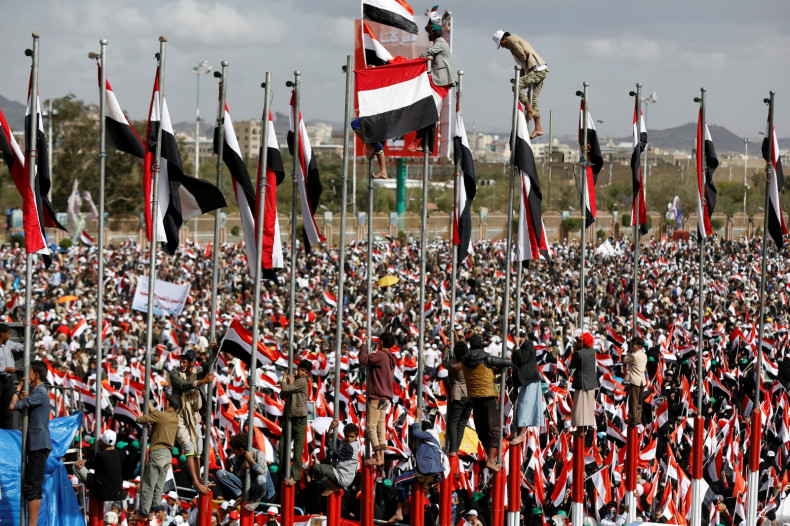 Houthis and the GPC are demanding that a new administration be formed, which would comprise of members of parties to run the country until fresh elections are held. On the other hand, supporters of Hadi want Houthis rebels to surrender their weapons and move out of cities under their control.
However, both parties have failed to reach an agreement even after holding several meetings initiated by the UN in Switzerland and Kuwait.
Hundreds of children have been killed in the fighting over the past year, while the death toll has crossed 7,600 since the war started. Around 2.8 million people have been displaced since Saudi Arabia-led troops launched the military campaign, UN said.