Prime Minister Theresa May and her husband Philip have revealed that he does "boys' jobs" around the home including taking out the bins.
In their first joint TV interview together, the pair, who have been married for 36 years, appeared on BBC's The One Show.
In a frank interview with by Matt Baker and Alex Jones they touched on far-ranging topics from Brexit and political leadership to the upcoming Eurovision song contest and fashion.
In the opening seconds of the interview Philip May, an investment banker with Capital International, said that he does the "boys'" jobs around the home, sparking criticism for reinforcing gender stereotypes.
"There's give and take in every marriage," he said. "I get to decide when I take the bins out, not if I take the bins out."
His wife added: "There are boys' jobs and girl jobs, you see."
He replied: "I definitely do taking the bins out. I do the traditional boy jobs by and large."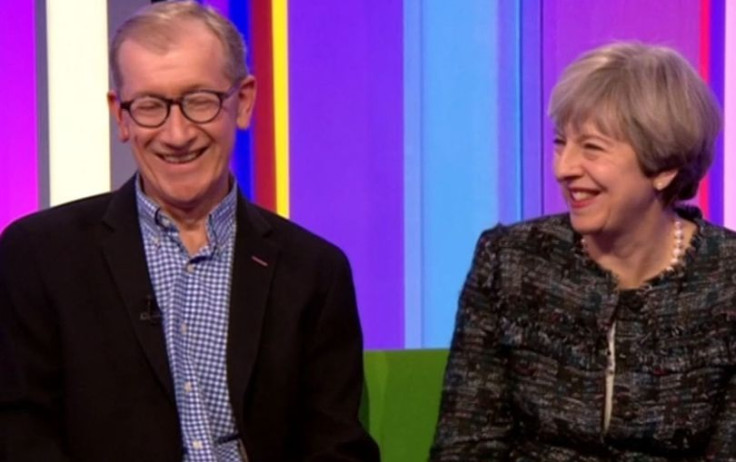 A slew of withering social media comments followed. Scottish Labour leader Kezia Dugdale responded on Twitter:
And there were others:
The Daily Telegraph reported that Philip, 59, received no media training ahead of the interview and the pair were not told about the questions in advance.
During the interview, the 60-year-old prime minister spoke of her "solid" upbringing in a vicarage and her interest in being an MP from an early age.
Her husband said that when he met a young Theresa while she was studying Geography at Oxford University it was love at first sight.
She said she felt the same. The pair were married by her father, a Church of England clergyman.
She also conceded that Banksy was "not her cup-of-tea" and that she was not expecting the UK to receive many votes in the Eurovision song contest taking place on Saturday (13 May).
Speaking of the Tory campaign ahead of the 8 June General Election she said: "It is about the Conservative party and the team of people that are in the Conservative party. Obviously I'm the leader of that party but at this election the choice is about leadership of the future."
Unable to resist using – again – the now-famous tag line she has repeated over the past weeks, she reiterated: "It's about having a strong and stable government, it's a about having strong and stable leadership, because there are tough negotiations coming ahead."