As Theresa May prepares to become UK prime minister this week, her husband Philip is set to step into the role of 'first husband'.
The Maidenhead MP has been married to Philip for 36 years after being introduced to him by the late Benazir Bhutto at a Conservative Party event at Oxford University, where Philip was the president of the union's debating society.
Despite this, he is not known to be an outspoken man, reportedly acting as the 'perfect' political partner to his wife, with whom he is more likely to debate the issues of the day in private.
A relationship manager at Belgravia-based Capital Group, with previous stints at Prudential Portfolio Managers and De Zoete & Bevan, the investment banker has been referred to by Mrs May as 'her rock' and is believed to have helped he through a particularly difficult time in her 20s, when she lost both her parents within the space of a year.
In a past radio interview on Desert Island Discs, Mrs May said her husband's support: "was very important for me," adding: "He was a real rock."
The pair married in 1980 and currently live in Theresa's constituency, in Sonning-on-Thame in Berkshire, although they will soon move into the 10 Downing Street flat David Cameron and his wife Samantha reportedly spent tens of thousands of pounds of their own money redecorating.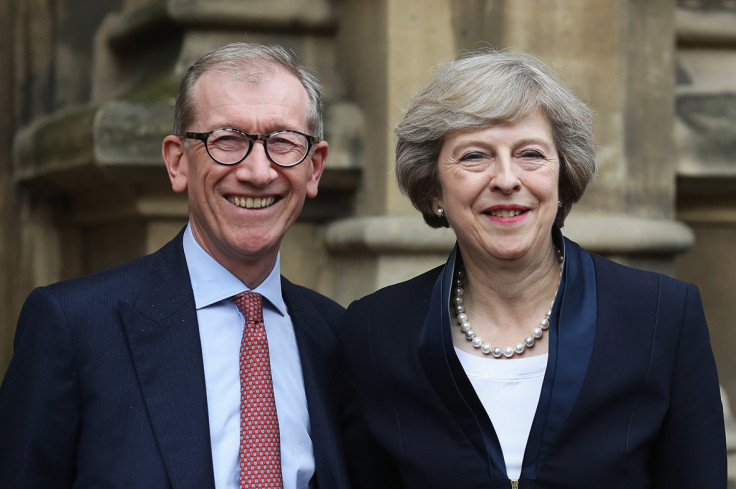 A former neighbour of the couple, Philip Curtis, recalled to the Daily Mail Mr May speaking proudly of his wife's political ambitions, stating: "John then astounded me by saying 'Theresa's ambition in life is to become to next Margaret Thatcher'."
As the second ever woman in Britain to hold the office of prime minister, parallels between the home secretary and Margaret Thatcher have already been drawn, with Philip too being compared to the only other first husband, Denis Thatcher.
Although both men have been described as being loyal and supportive to their politically powerful spouses, Mr May is believed to be slightly more reserved than Dennis, who was never backward in coming forward.
Mr May has largely stayed away from the limelight, preferring to support his wife behind the scenes, but as she is expected to become the UK prime minister 'by Wednesday evening', according to outgoing prime minister David Cameron, his time in the shadows may be drawing to a close.