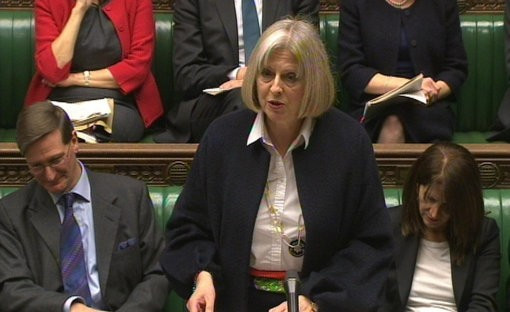 Theresa May has announced emergency measures to tackle the crisis over delayed passport applications as she faces growing claims of incompetence and chaos in her department that have dangerously undermined her position.
The home secretary was forced, by Labour, to make an urgent Commons statement on the affair after she was hit by stories of people missing holidays, business meetings and even honeymoons because they failed to get passports in the promised time.
There were pictures of bundles of thousands of applications lying unopened in offices and it was revealed staff had been secretly told to stop making security checks on applications to speed them up, only to be over-ruled when ministers discovered what was going on behind their backs.
Some applicants who had been given appointments at passport offices turned up only to be told to go away or travel hundreds of miles to a different office.
The horror stories were repeated in the Commons by MPs feeling the backlash from their own constituents.
In an attempt to stop the crisis engulfing her, May said all those seeking to renew their passports overseas would be given a 12-month extension, those overseas wanting passports for their children will get emergency documents and those with an "urgent need for travel" will have their applications expedited free of charge.
She even announced the likely scrapping of the passport office's current independent agency status and bringing it back under direct home office control.
The new measures came after both May and the prime minister had originally attempted to play down the crisis with David Cameron telling Labour leader Ed Miliband he was trying to "frighten people".
But it has now emerged the crisis had been building for months, that ministers had been warned about it weeks ago and that May was unaware of the memo sent by managers to passport office staff to drop some security checks.
The affair has seen the home secretary under intense pressure following her public rows with education secretary Michel Gove, over who was to blame for the alleged rise of Muslim extremism in classrooms, and with Boris Johnson over the use of water cannon against rioters.
That led shadow home secretary Yvette Cooper to declare in the Commons that the "sorry shambles in a sorry department" was the result of May not having her eye on the ball, because she had been distracted by other matters.
Cooper accused May of incompetence and demanded an apology to those whose holidays had been ruined.
May repeated the explanation that applications had been the highest for 12 years, with around 30,000 in the queue, adding: "There is no big bang, single solution so we will take a series of measures to address the pinch-points and resourcing problems the passport office faces."
What is clearly worrying ministers is the fact that this is an issue that is having an immediate and possibly devastating impact on people and there is no sign of how, or when it might end.
Worse, with the summer holiday season starting it is likely the crisis may only intensify.
And the effect on the government's standing with voters, who are already deeply disaffected, could be equally devastating, something Cameron and May are painfully aware of.
It is particularly dangerous for the home secretary whose normally cool, unflappable competence has been thrown into real doubt, along with her recent position as the leading candidate to replace Cameron as Tory leader in the future.
Previously she appeared to have thrown off the curse of the home office being the graveyard of political ambition, and was widely regarded as one of the most effective ministers in the cabinet.
But with those arguments with Gove and Johnson still rumbling on, and the passports fiasco now battering her too, it appears that curse may yet attach itself to her as well.