Theresa May has said that Donald Trump was "actually being a gentleman" when he famously held her hand during a visit to the White House earlier this year.
The British Prime Minister raised eyebrows in January when just days after the bombastic billionaire was inaugurated as the 45th president, she jetted into Washington for talks.
During the meeting designed to cement the "special relationship" for the next four years, the pair was spotted holding hands by photographers as he guided May down a slope at the White House.
Now, in an interview and photoshoot with fashion magazine American Vogue, the Tory PM said she would "like to think" she "got on" with Trump and that he was a "gentleman" during their meeting.
Asked about the hand holding, she told the magazine: "I think he was actually being a gentleman," May said apparently laughing off this gesture. "We were about to walk down a ramp, and he said it might be a bit awkward."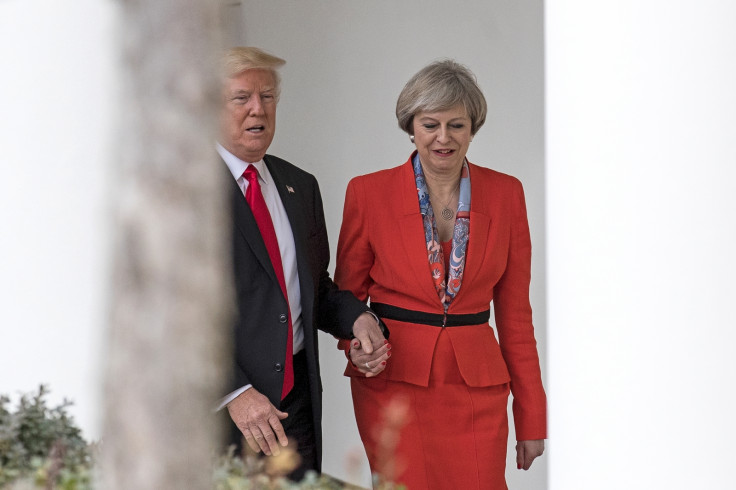 For the front cover of the issue, May appears in a series of photographs by Annie Leibovitz taken at the prime minister's country residence, Chequers, and walking with her husband Philip.
Interviewer Gaby Wood, who visited 10 Downing Street a few days after the Washington visit, quizzed May about whether she challenged Trump on his comments she had previously described as "unacceptable" about women.
May replied: "Well, I don't... We don't comment on private conversations that take place. All I would say is, I've been very clear: I'm not afraid to raise issues and the nature of the relationship is such that we should be able to be frank and open with each other."
In the candid interview, she discusses cooking her love of crime drama NCIS and comparisons with the only other British female PM, Margaret Thatcher.
Of Thatcher she told Vogue: "There can only ever be one Margaret Thatcher. I'm Theresa May. I do things my way."
The Daily Telegraph reported that in one of the shots, May is seen wearing a £450 ($556) red coat with a £1,200 ($1,482) jumper from London-based brand Egg while in another, she is wearing a navy £225 ($278) dress and matching £425 ($525) coat, both by British label L.K Bennett.
She also spoke of the furore caused by her wearing a £995 ($1,229) pair of leather trousers during a newspaper interview, saying: "Look, throughout my political career, people have commented on what I wear. That's just something that happens, and you accept that. But it doesn't stop me from going out and enjoying fashion.
"And I also think it's important to be able to show that a woman can do a job like this and still be interested in clothes."
May also has a particular fondness for shoes and is famed for her eye-catching leopard-print kitten heels and her unusual choice of footwear at the 2007 Tory Conference, when she arrived wearing Wellington boots.