Theresa May: UK must wipe out 'appalling' rise in anti-Semitism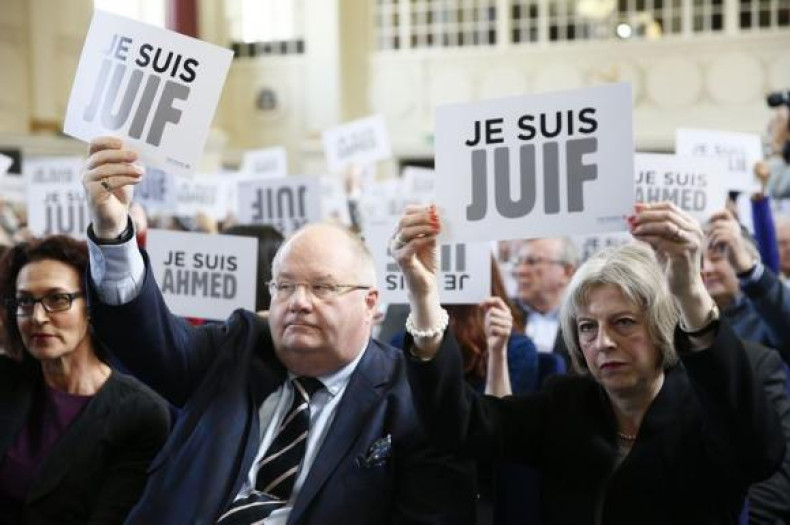 Home Secretary Theresa May has said Britain needs to address the "appalling" rise in anti-Semitism highlighted in the wake of the terror attacks in Paris.
Speaking to a Jewish community at a memorial service for those killed in the attacks in France – including four Jews at a Kosher supermarket – she said she'd "never thought I'd see the day" when British Jews said they are "fearful" of staying in the UK.
The comments were made after counter terrorism police said they are to increase patrols in Jewish communities following "heightened concerns" in the wake of the Paris attacks.
A recent YouGov poll also revealed 54% of British Jews feared they had no future in the UK and a quarter said they have considered leaving the country in the last two years.
Speaking at the event organised by the Board of Deputies of British Jews, May described her "distress" that nearly half of British Jews who took part in the survey showed their fears of living in the UK, with a separate poll also saying nearly half Britons hold at least one anti-Semitic view.
She said the Kosher supermarket siege in Paris was "a chilling reminder of anti-Semitism, not just in France, but the recent anti-Semitic prejudice that we sadly have seen in this country.
She added: "I know that many Jewish people in this country are feeling vulnerable and fearful and you're saying that you're anxious for your families, for your children and yourselves.
"I never thought I would see the day when members of the Jewish community in the United Kingdom would say they were fearful of remaining here in the United Kingdom.
"Without its Jews, Britain would not be Britain, just as without its Muslims, Britain would not be Britain - without its Sikhs, Hindus, Christians and people of other faiths, Britain would not be Britain," she added.
May said anti-Semitism also rose last year when the war between Israel and Gaza broke out which left more than 2,100 Palestinians and 72 Israelis dead.
"Those attitudes have absolutely no place in Britain and we must do everything we can to eradicate them," she said.