Theresa May said Brexit will not undermine Britain's relationship with the Republic of Ireland, as she pledged to forge deeper relations with the European Union member state. The prime minister said the referendum will not threaten peace between the two countries as she committed to the "closest possible" economic relationship.
Speaking alongside Irish Taoiseach Enda Kenney at 10 Downing Street on Tuesday (26 July), May also stated Britain's Leave vote would not hamper the Northern Ireland peace process. "It is in all our interests to work together to safeguard our national security and the outcome of the referendum will not undermine it," she said.
"We are both fully committed to working together in support of the Northern Ireland Executive to build a better, stronger, safer future for the people of Northern Ireland."
The UK and Ireland have a Common Travel Area arrangement that was signed in 1923 and enables citizens of either country to cross the border without strict checks. May reiterated her commitment to the agreement during a meeting at Stormont Castle in Northern Ireland on Monday and said the following day Ireland and the UK would share passenger data.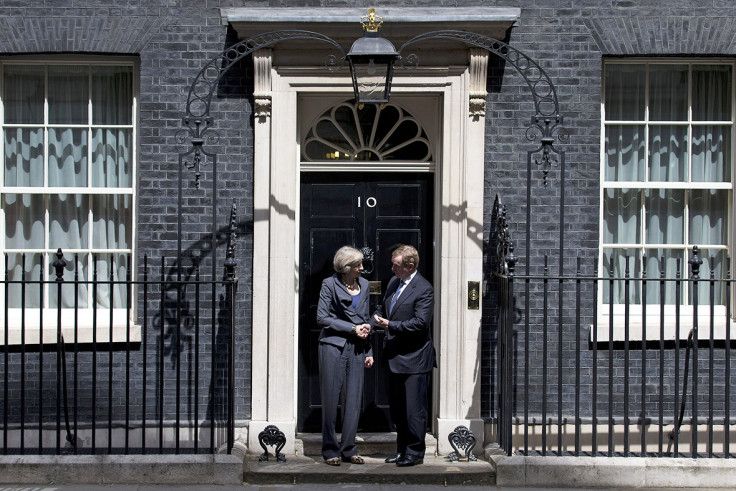 "We should continue our efforts to strengthen the external borders of the common travel area, for example through a common approach to the use of passenger data," she added.
Highlighting the £1bn in trade each week between the UK and Ireland and the 400,000 jobs it supports, May said the benefits "matter to people across both countries".
"That's why we have agreed today that we both want to maintain the closest possible economic relationship in the future. There is a strong will on both sides to preserve it."
Kenny, who earlier tweeted about meeting the PM, said he wanted the UK's discussions with the EU to end with a "prosperous and outward-looking United Kingdom".
"Neither I nor the prime minister are in any doubt about the complexities of the negotiations that lie ahead of us all, nor do we underestimate the importance of the issues involved for all of our citizens," he said.