Whenever Home Secretary Theresa May and her Labour party shadow Yvette Cooper go toe-to-toe in the House of Commons, dishing out political smackdowns across the floor, the place comes alive.
They're often more exciting than the exchanges between David Cameron and Ed Miliband. Which is a good thing, because they might just be their replacements in the not too distant future.
The latest of these fiery clashes was over a vote – or lack thereof – on the UK signing up to the European Arrest Warrant (EAW).
May came off worse after she was forced to defend the government's decision not to allow MPs to vote specifically on the controversial EAW. Cooper called the situation "shambolic" and "complete chaos".
It was classic Cooper-May sparring. In the past, they've battled over terrorism and Islamic extremism, immigration, the Trojan Horse scandal, policing cuts, the Border Agency, the child abuse inquiry, and much else. And they will fight again.
Increasingly when they meet in the Commons, it feels like two party leaders going at it. They carry the fire and energy that seems to be lacking in their weary leaders.
Both Cameron and Miliband have faced serious questions over the leadership of their respective parties. With a narrow general election in the offing for 2015 – polls show both parties on fairly equal footing – people are already asking the question of succession.
Not only because of the likely closeness of the election, but also because whoever wins could find themselves in an unhappy coalition and there's no certainty they would survive the whole parliament ending in 2020.
Miliband and Labour's poll ratings are nowhere near where they should be considering the years of Tory austerity, falling wages and a struggling economy.
His MPs are worried that he hasn't connected with the public and sold Labour's message, putting their chances in 2015 at risk. It's probably too late for them to do anything about it now, but that hasn't stopped the anonymous briefing against him by his colleagues.
As for Cameron, he failed to deliver a Conservative majority in 2010 and ended up in a coalition with the Liberal Democrats. To the surprise of many, the coalition has survived. And so has Cameron.
He is facing increasing discontent among his right-wing backbenchers over the threat of Ukip, who are attacking the Conservative party from the right and hoovering up voters. Two former Tory MPs, Douglas Carswell and Mark Reckless, have even defected to Ukip. There are rumours of more to come.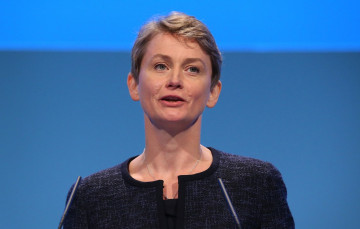 Labour inside out
Cooper, 45, is a Labour stalwart. Elected as one of "Blair's Babes" in 1997, to the seat of Pontefract and Castleford, she served as a junior minister in both the Blair and Brown administrations, first at the Department for Health and then in the Office of the Deputy Prime Minister.
She got her big break under Brown when she was appointed to the Cabinet as Chief Secretary to the Treasury in 2008, before going on to become Secretary of State for Work and Pensions until Labour was ousted at the 2010 general election. To cap it off, she's married to Shadow Chancellor Ed Balls.
Cooper has all the credentials to control Labour. Front bench experience. Popular. A solid performer in the House. The potential to be Labour's first ever woman leader.
With wobbles around the incumbent Ed Miliband, and talk of who would be his successor if he fails at the 2015 general election, Cooper's name is always high up that list. She's typical Labour – Oxbridge then party machine then parliament. She knows the Labour system inside out.
Real-world experience
May, 58, has been MP for Maidenhead since 1997. She served on the Conservative front benches of William Hague, Michael Howard and Iain Duncan Smith. As well as schools, transport and work and pensions roles, she was also the Conservatives' first female party chairman.
She has been Prime Minister David Cameron's home secretary since the coalition government came into power in 2010. There have consistently been reports that May is keen on challenging for the party leadership one day in the future.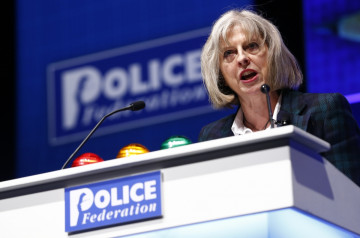 Like Cooper, she has cut her teeth on the front benches and has solid experience as a senior party figure. Unlike Cooper, who worked her way up the Labour party machine, May has real-world experience. She worked at the Bank of England and then in financial consultancy.
Perceived as tough, May appeals to Conservative voters' desire for robust justice and policing. She has blocked entry to the UK of a number of extremist Islamic preachers and deported the radical cleric Abu Hamza, although she suffered some political turbulence over how long it took to get him out.
And she has also faced down criticism over policing cuts. At a 2012 speech to the Police Federation conference, she struggled to be heard above the booing. But she has survived the turmoil. Unless the latest EAW debacle consumes her, she's in the running to succeed Cameron if he loses in 2015.
Whatever happens in 2015, it's likely that one of these two women will end up leading their party. And by 2020, it might even be both of them gearing up for a fight to the political death at a general election.