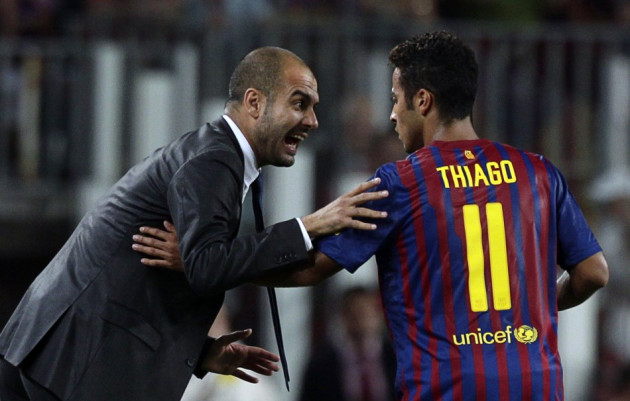 Barcelona midfielder Thiago Alcantara has praised the impact of Cesc Fabregas since the Spain international joined the club in August.
Alcantara, 20, also voiced his disbelief at the amount of playing time he has had in the last three months.
The highly-rated youngster singled out former Arsenal captain Fabregas for the ease with which the 24-year-old has adapted to life at Camp Nou.
"Cesc is a great player who pairs really well with me and the rest of the team," Alcantara - who was linked with a move to Arsenal in the summer - told Goal.com.
Fabregas returned to Barcelona in the summer transfer window, eight years after leaving for Arsenal as a teenager in 2003.
Alcantara expressed his delight at the number of games he has played in the Barcelona first XI this season.
"I didn't think I would be playing so much this season, I'm a bit surprised with the amount of minutes I've been given on the field. It's a pleasant surprise," he said.
"As time goes on you mature and evolve, in certain situations I would be too risky with my play. Playing out wide is more secure, easy and simple."
Alcantara, who has scored one goal in 10 games for Barcelona this term, also said he believes his younger brother Rafael will reject any reported interest from bitter rivals Real Madrid.
"I have know him since the day he was born," Thiago told AS. "I have followed his every step. He is a great person and a great player, we do not know how far he can go, but I am sure he will be a great player. We are talking to the club [Barcelona], since I am going to stay, he might as well stay too.
"He is very happy here. The reports about Madrid's interest are something we did not create. It was the press who put him on the agenda, but I believe my brother is very happy here."