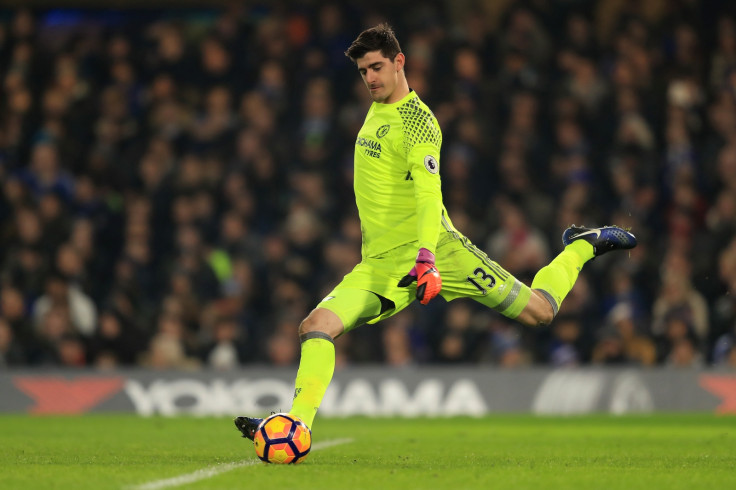 Chelsea stopper Thibaut Courtois has expressed his disappointment at referee Anthony Taylor's decision to not call for a foul against Alexis Sanchez as he appeared to handle the ball in Chelsea's 2-1 FA Cup final loss to Arsenal at Wembley on Saturday, 27 May.
There was another case of an offside against Aaron Ramsey, with the assistant flagging him off but after a discussion with the on-ground referee, the decision was overridden and the goal awarded.
The Belgian argued that Taylor had visited the Blues before the start of the season to explain the rules, which stated that a player is deemed to have handled a ball if his hands are in an unnatural position.
According to the 25-year-old, Sanchez's handball was so blatant that it resembled a "volleyball block". He quipped that it was among the best blocks he has ever seen.
"At the beginning of the season, they call us in to Cobham to explain the rules," Courtois said, as quoted by ESPN.
"It was even the same referee this year. They say that the hands should always be in a natural position. If he has his hands next to him and he gets the ball to the arm, he cannot do anything about it, but now he actually does a volleyball block. It's one of the best blocks I've seen."
On Ramsey having affected the game while in an offside position, Courtois believed that he would have collected the ball if not for the Welshman's presence in the midst, thus not allowing Sanchez a free shot on goal.
The rules state that a player cannot be ruled offside if he doesn't affect the play, as was deemed by Taylor, but the Belgian keeper begged to disagree and stated that the 26-year-old became active when he moved towards the ball.
"Ramsey is out of control and bothering me, because if he's not there I can get out and get the ball before Alexis," he added. "Because he's standing there, I stop and stop the defence. It's clear that he interrupts the game for me, that he participates in the game, and it's clear hands."