Third explosion and gunfire heard in Kabul following earlier twin strikes in the city
Afghan capital was rocked by twin blasts which killed at least 24 and injured 91 on Monday (5 September).
A third explosion and gunfire has been heard in Kabul, just hours after the city was rocked by twin blasts that killed at least 24 and injured at least 91. During a bloody day in the Afghan capital, the Taliban had claimed responsibility for the two explosions that took place at around 4pm local time on Monday (5 September).
Then, at around 11pm local time, reports indicated that an explosion took place in the Shar-e-Naw area in the city, near the Ministry of Interior. Unconfirmed reports suggest the explosion took place in Flower Street, with a "guest house" reportedly coming under attack afterwards.
Earlier, during rush hour, a suicide bomber blew himself up in the centre of the city, while another bomb was detonated remotely just beforehand, local media reported.
Eye witnesses say that as emergency services rushed to the scene following the first blast, a suicide bomber was spotted running into the crowd where they reportedly detonated an explosive vest.
Deputy defence ministry spokesman Mohammad Radmanish told the Associated Press the suicide attacker struck as security forces gathered to address the damage of the first blast. An Afghan ministry of defence spokesperson told the BBC that an army general and two senior police officers are among the dead.
The Taliban, who have carried out frequent attacks in the city in the past few months, claimed the responsibility for the blasts on Twitter. The Islamist group have recently embarked nationwide offensive against the US-backed government based in the city.
They have been further aggravated by Afghan President Ashraf Ghani's tough stance on the insurgents – executing some Taliban members accused of terrorism. Taliban spokesman Zabihullah Mujahid told his followers on Twitter that the defence ministry was the object of the first attack, while police were targeted in the second "martyr" attack.
President Ghani condemned the Taliban attack saying the assailants were "enemies of Afghanistan who have lost their ability to fight the security and defence forces".
The attack comes just 11 days after 13 people were killed by gunmen at the American University in the city. Afghan security forces are battling both the Taliban and a relatively new battle with the Islamic State (Isis).
In July 2016, a suicide bomber claiming to part of Isis (Daesh targeted a protest march by members of the Shia Hazara minority, killing 80 people.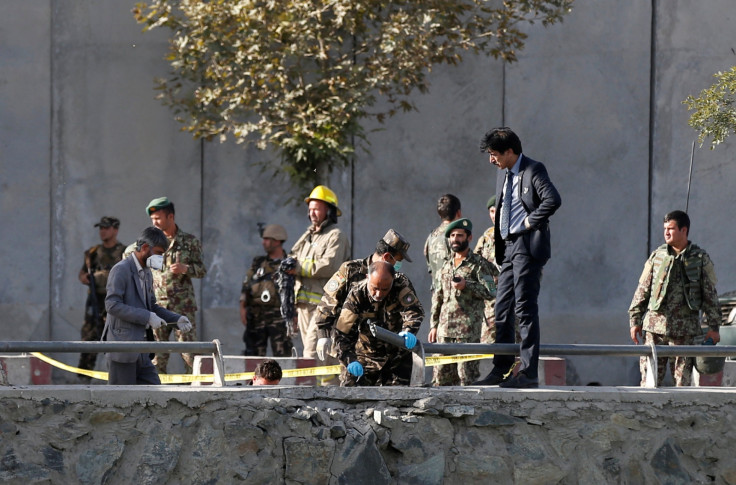 © Copyright IBTimes 2023. All rights reserved.