The Duchess of Cambridge is one of the most glamorous women on the planet, and many royal watchers have wondered why she never wears nail varnish to match her many stylish outfits.
It has become apparent that Kate Middleton, 35, does not use coloured nail varnish and wears a very subtle skin-toned or clear polish on the odd occasion.
Glossy magazine Marie Claire claims this is all down to the Queen, who has decreed that only natural-looking nails are permitted at official royal events due to etiquette.
When the pregnant mother-of-two is not wearing Her Majesty's go-to shade, Essie Ballet slippers, she likes to mix two polishes together for an ultra-natural look.
Middleton is said to have learnt her manicure tricks from Camilla, Duchess of Cornwall's manicurist, Marina Sandoval, who works at the Jo Hansford hair salon in Mayfair.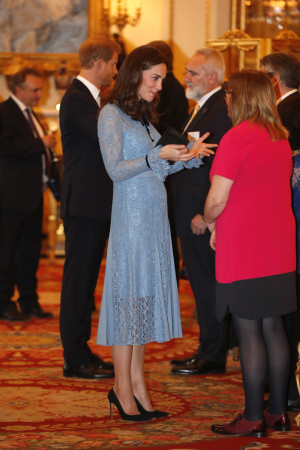 Middleton's stepmother-in-law arranged for Ms Sandoval to drive over to Clarence house ahead of the royal wedding in 2011 to give both ladies a manicure.
The bride-to-be was treated to Sandoval's signature manicure costing £36, which comprises a luxury soak, exfoliation of the hands, deep tissue massage and the standard filing, buffing and polishing procedure.
The manicurist blended together Bourjois no. 28 Rose Lounge, £4.99 – which is described as a feminine and soft pale pink that oozes elegance and sophistication – with Essie 424 Allure, £6.57 – fittingly sold as "a seductive sheer with a natural finish fit for royalty".
Sandoval told the publication: "Catherine wanted something very natural looking and I felt these matched her skin colour beautifully. She wanted something off-white and bridal, so these were absolutely perfect. She was very pleased with the result and told me that it looked beautiful and elegant."
Beauty brand Essie claims that the Queen has been using their Ballet Slippers shade – a "classic pale pink polish" – since 1989 and stated on its website that it is "the only colour Her Majesty would wear".
It looks like the natural nail look is becoming a trend, since Meghan Markle eschewed nail polish for her first official outing with boyfriend Prince Harry at the Invictus Games in Canada.