As well as doing something typical and reprising Chris Hemsworth in his role as the titular Asgardian Avenger, Thor: Ragnarok is looking to do something new within the Marvel Cinematic Universe, according to Lainey Gossip. Thor 3 will reportedly introduce Marvel's "first major female villain" to the movie franchise. However, no more information seems to be known just yet.
Whilst baddies that are women aren't necessarily a new thing when it comes to Marvel's films, Karen Gillan's Nebula in Guardians Of The Galaxy being the most notable, there has never been a female nemesis that has gone up against any of the Avengers alone. So this news is certainly exciting.
There's plenty of candidates when it comes to which female villain could appear in Ragnarok, including Queen Knorda, leader of the Mountain Giants and Hela, Loki's daughter within the comics and Asgardian Goddess of Death. However, in a deleted scene from Avengers: Age Of Ultron released back in September, Thor was seen travelling to the Norn caves with Dr Selvig (Stellan Skarsgård). Within the clip, Thor explains to Selvig that the only way they can stop enemy Ultron is "human sacrifice" and references a stone, which after seeing the whole movie, fans will understand is the mind stone, one of the Infinity Gems that big, bad Thanos has been trying to get his hands on since 2012's Avengers Assemble.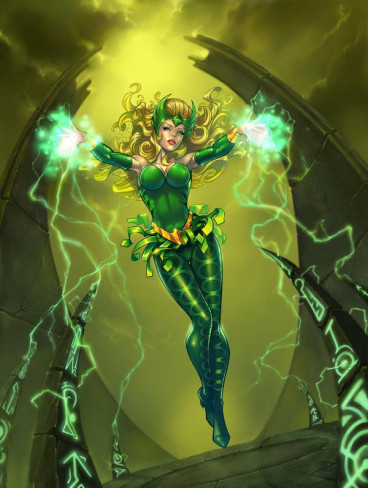 The importance of Thor being associated with the Norns is interesting for two reasons now that news of a female supervillain has emerged. One, Marvel never do anything in their movies without an endgame, with each scene either meaning something to the film in which it takes place or being relevant to a storyline that will come at a later date in a different movie. And two, Karnilla is a serious baddie within the Thor comics and she just so happens to be queen of the Norns. Coincidence? Probably not.
An even more likely contender to appear is one of Thor's greatest enemies, Enchantress (not to be confused with the character Cara Delevingne is playing in the forthcoming DC movie Suicide Squad, who is also a powerful sorceress).
Not only was she a frontrunner during the speculation of who was going to be the first film's antagonist, she was also the one who turned Barbara Norris into alter-ego Valkyrie, who has already been confirmed to be appearing in Thor's third instalment.
She has faced the Avengers as a unit within the comics, fronting off with Scarlet Witch in particular, who has just herself been introduced to the MCU. In addition, she fought Doctor Strange in crossover comic, Acts Of Vengeance alongside her right-hand man, The Executioner. Doctor Strange is currently filming, ahead of a standalone movie being released in 2016. You see where we are going with this now, right?
But the final clue hinting that Enchantress could be Thor 3's villain is the subtitle itself, and be warned, it is potentially spoiler-heavy, is this... Comic book followers will know that she met her end during Ragnarok. By now, we realise that the good guys do always win in each of their cinematic depictions, so could Thor be the one to take her down on screen this time? It would certainly make for a thrilling movie.
Marvel Studios boss Kevin Feige promises official news in the near future, meanwhile Thor: Ragnarok is scheduled to reach UK cinemas on 27 October 2017 and US cinemas on 3 November.
For more entertainment news follow A-List on Twitter @Alistinsider