Crowds gathered outside Downing Street and in cities across the UK on Monday (30 January) to protest against Donald Trump's Executive Order temporarily banning citizens from seven Muslim-majority countries from entering the US.
It comes as more than 1.4 million people signed a petition calling for the US president to be prevented from making a state visit to the UK. As backlash over the controversial travel restriction grew, Prime Minister Theresa May refused to withdraw the invitation to Trump.
Speaking at a news conference on Monday evening, May said: "The US is a close ally of the UK, we work together on many areas of mutual interest and we have that special relationship between us. I have issued that formal invitation for a state visit for President Trump, here to the United Kingdom, and that invitation stands."
Thousands attended the demonstration outside Downing Street, with protests also taking place in Manchester, Birmingham, Cardiff, Cambridge, Glasgow, Leicester, Liverpool, Newcastle and other cities. More than 25,000 people signed up for the protest in London on Facebook.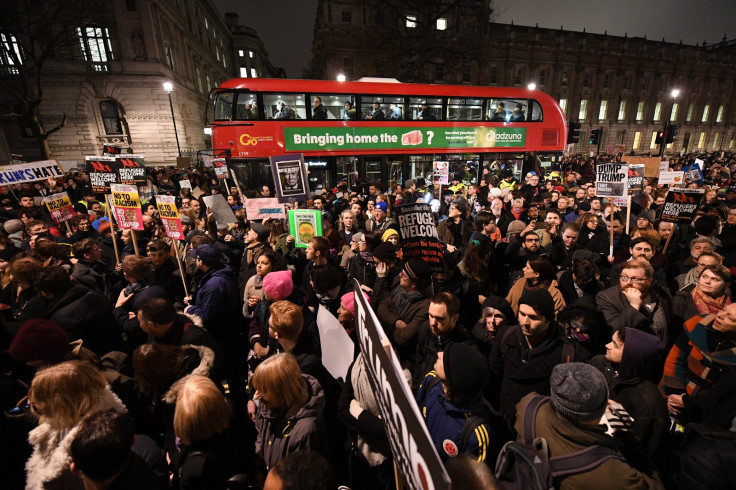 One protester holding a placard which said "America is our ally but Trump is our enemy" told IBTimes UK: "We're not stopping him from coming here, but we don't want him to come under a state visit – it's not appropriate. He does not meet British values and British standards."
Calling on May to revoke the formal visit, she added: "Stop the complacency and stop the state visit. Come out against him [Trump], what he is doing is wrong. I think he's quite possibly one of the most dangerous men on the planet in this moment".
Education consultant Clare Smith told the Mirror: "I don't think we can stand alone and ignore what's going on.
"Basic human rights are being obliterated and ignored.
"It's about time some of our politicians referred back to the United Nations Charter on Human Rights to see why this action by Trump is so deplorable.
"Our Prime Minister should have been a little more forthright in what she was saying, because we all knew this ban was coming," she added.
Protesters arrived with placards bearing a range of messages – from showing solidarity with refugees to branding May an "appeaser".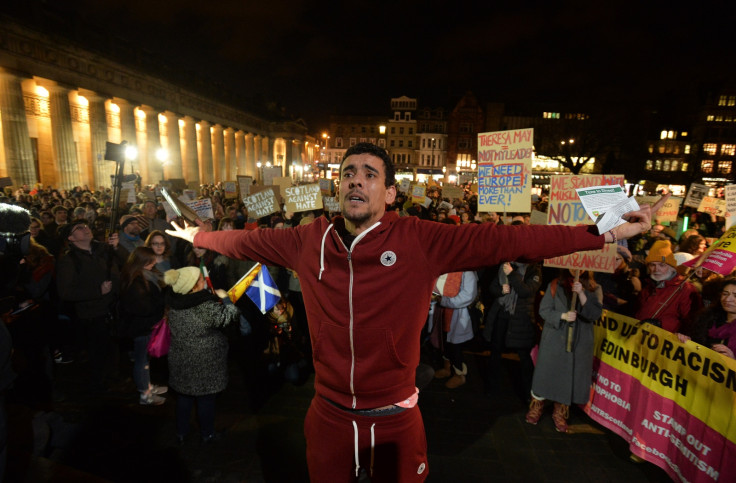 High profile speakers included Shadow Attorney General Shami Chakrabarti, singer Lily Allen and former Labour leader Ed Miliband. Chakrabarti was barely audible amid chants of "refugees welcome here" and "Theresa May, shame on you" from the crowd.
Shadow Home Secretary Diane Abbott told the protesters she had come on behalf of Labour leader Jeremy Corbyn. She said: "Donald Trump has been president for only a few days, and look at what he is doing. We need to resist the Islamophobia and scapegoating of Muslims, we have got to resist it whether it is in the United States or here in the UK."