The online petition urging Donald Trump be blocked from making a state visit to the UK has reached more than one million signatures. The petition called for the US President to be prevented from meeting the Queen as it would cause "embarrassment" for her.
It added: "Donald Trump's well documented misogyny and vulgarity disqualifies him from being received by Her Majesty the Queen or the Prince of Wales. Therefore, during the term of his presidency Donald Trump should not be invited to the United Kingdom for an official state visit."
The parliamentary petition had already gained the 100,000 signatures needed for the cross-party Petitions Committee to decide on whether MPs should debate it in the House of Commons.
However, a 10 Downing Street spokesperson has said Theresa May has no plans to stop Trump's planned visit to the UK later this year. A spokesperson told IBTimes UK: "The invitation has been extended and has been accepted."
Downing Street has issued a statement saying the prime minister does not agree with Trump's executive order. A spokesperson said: "Immigration policy in the United States is a matter for the government of the United States, just the same as immigration policy for this country should be set by our Government.
"But we do not agree with this kind of approach and it is not one we will be taking. We are studying this new executive order to see what it means and what the legal effects are, and in particular what the consequences are for UK nationals."
Several MPs, including Lib Dem leader Tim Farron and leader of the Scottish Conservatives Ruth Davidson, have also called on Trump's visit to be postponed.
Labour leader Jeremy Corbyn added to ITV's Peston On Sunday: "Is it really right to endorse somebody who has used this awful misogynistic language throughout the election campaign, awful attacks on Muslims, and then of course this absurd idea of building a wall between themselves and their nearest neighbour?'
"I think we should make it very clear we are extremely upset about it, and I think it would be totally wrong for him to be coming here while that situation is going on. I think he has to be challenged on this. I am not happy with him coming here until that ban is lifted, quite honestly."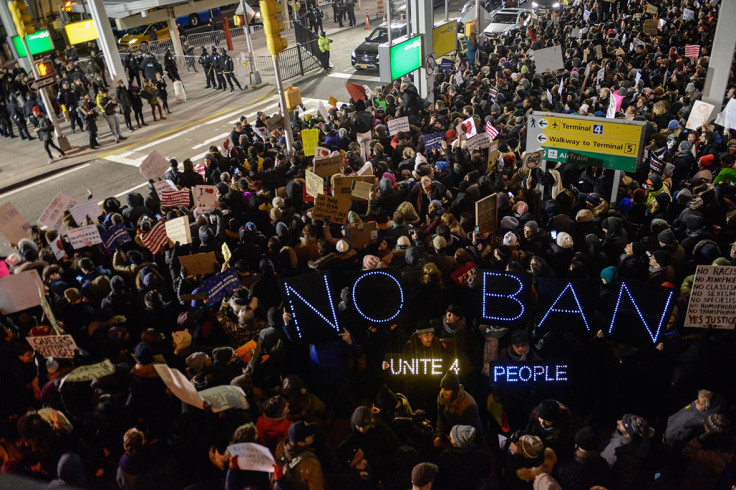 Graham Guest, a 42-year-old solicitor from Leeds, said he started the petition after Trump won the election but it only started to gain traction after he imposed his controversial travel ban for refugees entering the US from seven mainly Muslim countries.
Guest told IBTimes UK: "I set the petition up about two months ago, but I didn't think it would do anything.
"I did it at the time of the election because I anticipated he would be invited for a state visit so I put that there on the website, but obviously, the state visit was only announced a couple of days ago so that's what got people interested.
"I think the 'Muslim ban' got people quite angry as well. People are looking at a way of getting at Trump and that petition is a way of achieving that because I think people think: 'Well, if you're going to ban people on some pretty spurious grounds...' then they were trying to make him know what it feels like to be banned from coming to the UK. From there, it just took a life of its own."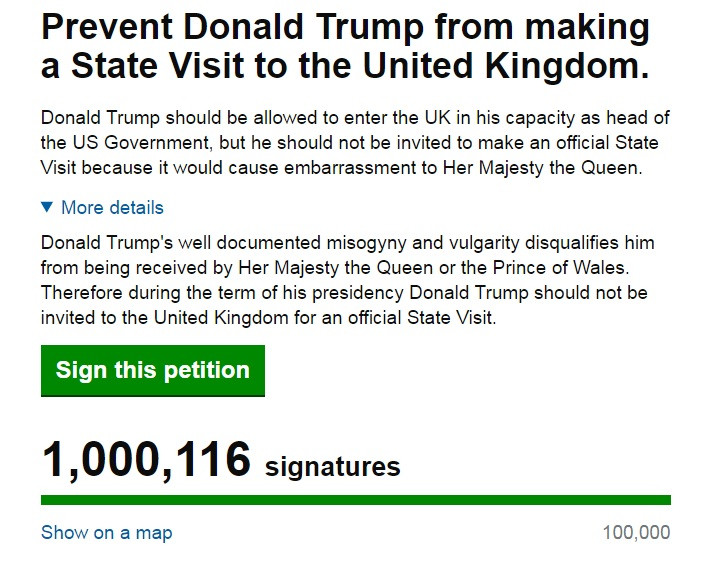 The petition hit one million signatures on the morning of further protests against Trump's executive order on refugees taking place across the UK.
Tens of thousands of people are expected to take part in demonstrations against Trump outside 10 Downing Street as well as in other cities such as Edinburgh, Manchester and Belfast.
Huge protest have already taken place in the US and across the world following Trump's extreme vetting" measures against migrants or visitors from Iran, Iraq, Libya, Somalia, Sudan, Syria and Yemen.
You can check how many of the one million votes came from your area via this map.