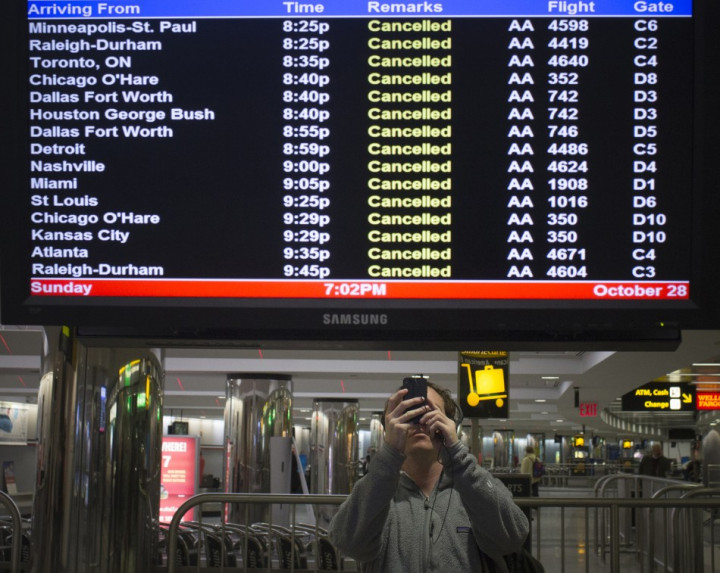 Thousands of British visitors could be left stranded along America's eastern seaboard until Friday as airlines and airports cancel flights in preparation for Hurricane Sandy, due to arrive within hours.
According to the National Weather Service (NWS), the hurricane may continue until Friday, meaning flights could be disrupted and cancelled for the rest of the week.
Justin Holder, from Hampshire, is currently in New York on business. He said he will be stranded until the middle of the week at the earliest.
He told the BBC: "I'm now stuck till at least Wednesday but most businesses have shut down for at least Monday, no-one is sure how bad it is going to be.
"I'm in a hotel in Greenwich in the lower east side, so very close to the water. So far it's blustery but OK. My hotel is full - people living in apartments with large glass windows have checked in, taking the last rooms."
Heathrow Airport said Hurricane Sandy has caused disruption and cancellations to and from the affected areas, which include New York, Washington, Boston, Philadelphia, Baltimore and Newark.
The airport is currently advising passengers due to fly to these areas to check their flight status before going to the airport.
In total, Heathrow has cancelled 59 flights, including 12 arrivals and 47 departures. Edinburgh Airport has cancelled four flights, while Manchester and Birmingham are also calling off flights.
British Airways has cancelled all its flights to and from America's east coast. A statement from the company said: "We understand that customers may be disappointed, however their safety is our highest priority.
"We are offering the option to rebook or receive a refund to those customers whose flights are cancelled."
Virgin Atlantic said its flights to and from New York, Washington and Boston have been cancelled. A spokesman for the airline said: "Passenger and crew safety is our number one priority and we are continuously liaising with local authorities to assess the situation and minimise the disruption caused to passengers."
Authorities are currently warning that New York could be hit by an 11ft wall of water and widespread flooding. So far Sandy has killed 65 people.
It is predicted that Sandy will coalesce with a seasonal storm from America's north-east to create an even greater threat. One meteorologist called it 'Frankenstorm' - in recognition of its potential power and the fact that it will hit America on the eve of Halloween.
Hurricane Sandy: Floodwaters Hit New York Streets in Path of Frankenstorm [PHOTOS]
Hurricane Sandy: Atlantic City 'Under Water' Hours Before Frankenstorm Hits East Coast
In the Path of Hurricane Sandy: 'WalMart has Been Stripped Bare and the Power is Starting to Fail'
HMS Bounty Replica Crew Abandon Ship as Hurricane Sandy Nears [VIDEO]