Three people have died, and a number are missing, after storms flooded rivers in eastern Australia. On 6 June, Tasmania was bracing itself as the storm headed towards them, with flood warnings issued for seven rivers and two elderly people feared drowned.
More than 100 people were evacuated in Latrobe, with helicopters and boats being sent to evacuate people in surrounding areas. According to the Guardian, a family of three had to be rescued from the roof of their car.
A man was reportedly swept into the Ouse River, on 6 June, as it flooded his backyard, while a woman was reported missing after her house was flooded in the north-west of the state. A rescue search is also underway on mainland Australia, for a man who was washed off rocks near Bondi Beach in Sydney.
Prime Minister Malcolm Turnbull said: "Our thoughts are with all those impacted by the severe weather events around the country. My government stands ready to assist and support the work of emergency personnel on the ground who have been putting their lives on the line."
He urged the public to stay away from floodwaters and remain on high ground where possible. He has also postponed a planned campaign stop in Tasmania, as they prepare for the emergency flooding, with Mayor of Latrobe council, Peter Freshney, warning that Tasmania is facing an "unprecedented situation".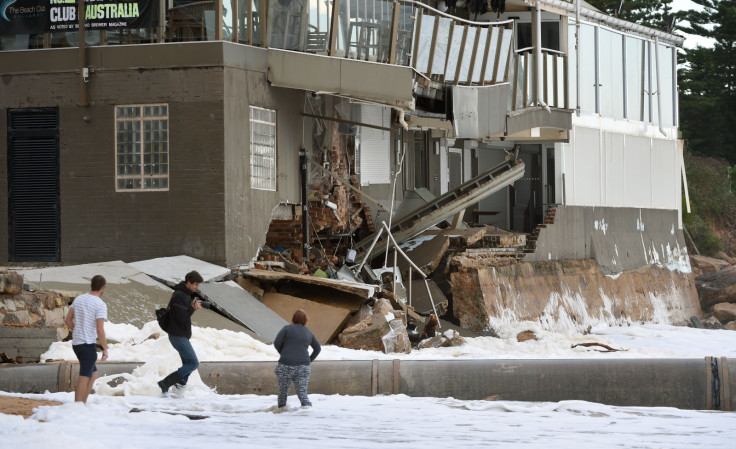 Speaking to ABC News 24, Freshney said: "The impact of the water and the flow of the water is unknown. We're getting reports of significant peaks and they're really starting to worry us. We will have major infrastructure damage, without question, people will have damage property to their houses."
Meanwhile, Tasmania's police minister Rene Hidding echoed calls urging people to remain away from the water. Earlier, NSW police expressed frustration that people were still entering the water despite warnings in place.
Hidding said: "Don't try to take nature on – it leads to tragedy. There is simply no case to enter flood waters with a motor vehicle or in person."
Many have taken to Twitter to share images and videos of the rising rivers, using the hashtag #TasFloods to raise awareness.