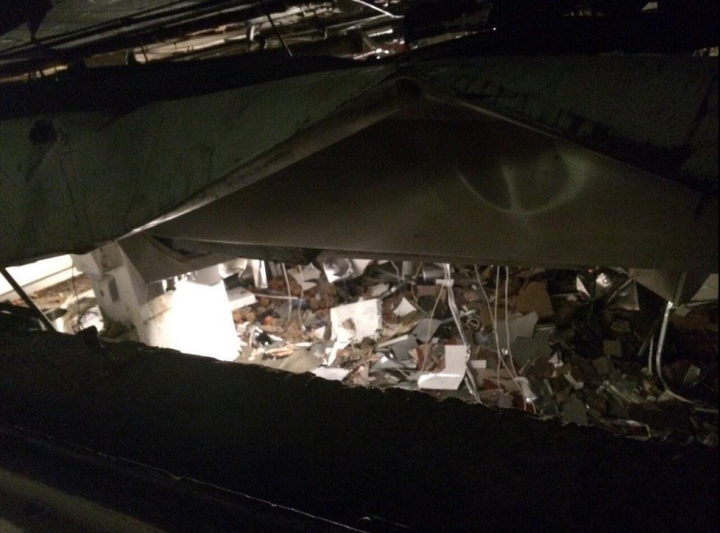 Five people have been hospitalised after an explosion at a central London hotel on Friday night caused part of the building to collapse and widespread "chaos" on the streets below. Twelve others, all believed to be members of staff, were treated at the scene.
A suspected gas leak caused the blast in the basement kitchens of the Hyatt Regency Churchill on Portman Square in the Marylebone area, which eyewitnesses have described as "shocking" and leading to panic among hotel guests.
All of the 500 staff and guests of the hotel were evacuated and accounted for shortly after the incident at 11.40pm, and have been put up at the Radisson hotel on the same road.
Around 35 firefighters from Soho and Paddington fire stations are still attending the scene on Saturday morning, as well as search and rescue and hazardous materials teams. Eighty firefighters were called to the scene immediately after the incident.
The explosion "caused extensive damage" to the hotel building, a London Ambulance Service (LAS) spokesperson told IBTimes UK.
A dangerous structure engineer is reported to be on site, alongside gas safety authorities, say LAS.
Hyatt guest Raymund Reyes, 40, had been talking to his wife on the phone when the explosion happened, Associated Press reports.
He said: "The floor shook and there was a loud explosion simultaneously. The power went out, it was pitch dark. I go into the hallway and it was pitch black - no lights, nothing.
"We went down the stairs. On the first flight people were kind of panicked. I thought it was a drill. But then I saw that it was pitch black and I thought, there's something wrong.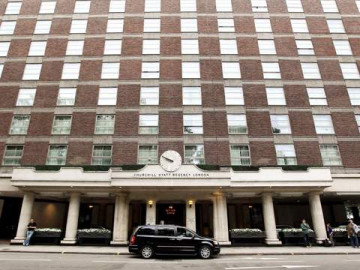 "We get down here and there's chaos. I was outside for a good hour and a half. This has been a shock."
Nawaf Albarrak, 32, from Saudi Arabia, felt the explosion from his room in the Radisson hotel across the street.
"I felt something, and I was afraid it was maybe an explosion or something.
"Then my sister came back along the road, and she said there are ambulances and a lot of people here. I saw everybody outside, there were too many people.
"They took people inside. There were people in pyjamas and people without coats. They gave them blankets. I think they did well."
Two of the men taken to hospital last night are being treated for leg wounds. There is no current information on the other victims' injuries.
A Metropolitan Police spokesperson said it is unlikely there will be any official police investigation.
The explosion is believed to have been caused by a gas leak, though officials are yet to confirm this.