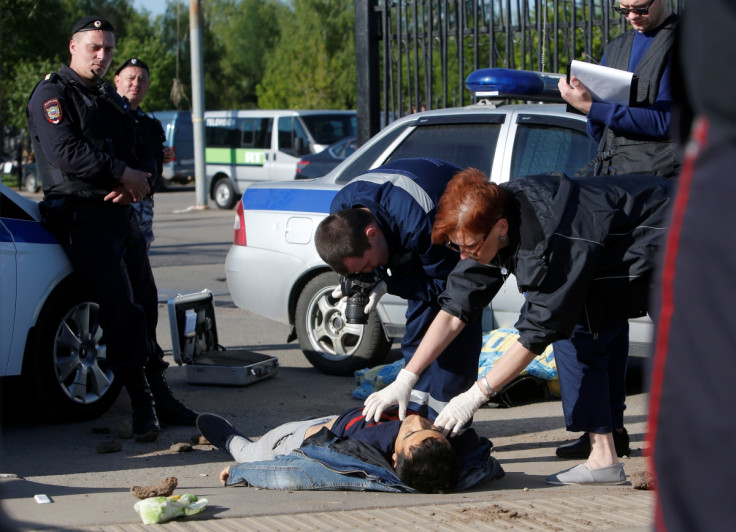 A mass brawl at a Moscow cemetery has left at least three people dead and 10 wounded, police in the Russian capital said. Up to 200 people were involved in the violence which broke out on Saturday, 14 May. Two of the dead were hit by a car driven by someone trying to flee the scene, police spokeswoman Sofia Khotina told the Interfax news agency.
The three people in the car were armed with pistols, she said, adding that they were among 50 people detained by police. Some of those arrested were being held on suspicion of murder, Interfax said.
Preliminary information led police to believe the brawl was about control over burial services at the sprawling Khovanskoye cemetery in south-west Moscow, Khotina told the state run news agency Ria Novosti.
Interfax said participants used shovels, shovel handles, steel bars and baseball bats and also fired non-lethal handguns. They were cordoned off by riot police, who later made arrests.
The head of Moscow's Metropolitan Police Service Anatoly Yakunin said the force would do whatever was necessary to establish who organised and took part in the event "and bring those responsible to justice", Ria Novosti reported.
He added that trails of blood leading away from the scene indicated that some of the victims had been dragged away by their friends before the police moved in.
Ria Novosti also reported that there were racial overtones to the fight. It said that the cemetery staff were natives of Tajikistan and Uzbekistan, while the attackers wanting to "occupy the territory" which brings in a large income were from Dagestan and Chechnya.
A law enforcement told the agency that they were combing the cemetery for more victims while the Department of Health said 23 people had been hospitalised as a result of the brawl.
"At the moment, 29 injured, three of them fatal, three non-hospital and 23 were hospitalised, four in critical condition", a spokesman said.