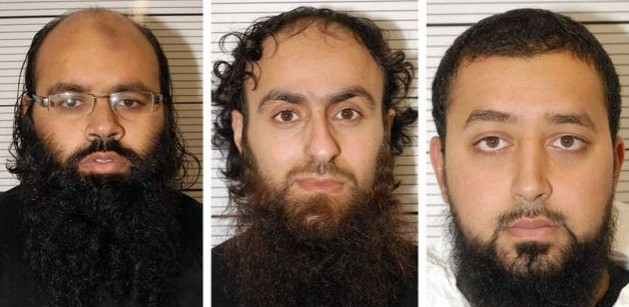 The trial of three terrorist suspect accused of plotting a suicide bomb campaign which would have eclipsed the London 7/7 attacks in terms of death and carnage have begun.
Irfan Nasser, 31, Irfan Khalid, 27, and Ashik Ali, 27, all from Birmingham, are accused of planning "another 9/11" in the UK by detonating eight rucksack bombs to cause mass death.
Nasser and Khalid are also charged with attending a terrorist training camp in Pakistan and recording martyrdom videos to be released once their attacks had succeeded, jurors at Woolwich crown court heard.
All three men deny the charges, which include planning a bombing campaign, terrorism fundraising and recruiting others for terrorism.
Prosecuting, Brian Altman QC told the court: "Police successfully disrupted a plan to commit an act or acts of terrorism on a scale potentially greater than the London bombings in July 2005 had it been allowed to run its course.
"Although the finer details had not been worked out, the defendants were preparing to detonate up to eight rucksack bombs on a suicide attack and/or detonate bombs in crowded areas to cause mass death and casualties.
"One of them was even to describe their plan as another 9/11."
The 7 July bombings across London in 2005 left 52 people dead. A further 700 people were injured.
A total of 11 people of Pakistani and Bangladeshi origin, including one woman, were arrested over the alleged plot that has just gone to trial.
The three defendants were described as "central figures" in the plan. Altman described them as jihadists and "senior members of a home-grown terror cell".
"Each of the defendants made the deliberate decision to become a terrorist following what they believed to be the right path dictated by their extreme religious and ideological beliefs."
The group are also accused of making fake charity collections for Muslim Aid and a local Muslim centre in Birmingham and using the money to fund terrorism.
Altman said the men were "despicably stealing money from their own community donated to charity".
The trial is expected to last between eight to 10 weeks.