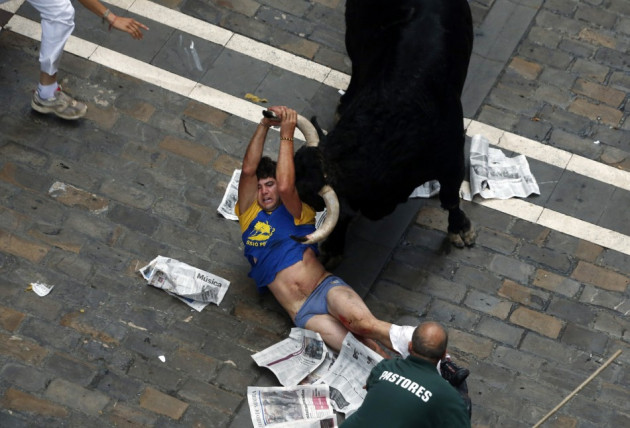 Three people have been gored during a bull run through Pamplona during Spain's San Fermin festival.
One American was gored in the stomach and a 42-year-old Spaniard was injured in the leg as they took part in the deadly race.
The other victim, also of Spain, was described as having "less serious" injuries.
The three were gored by a half-tonne bull after it separated from the pack and charged at them. Witnesses looked on in horror as the bull impaled one man and tossed him to the ground as fellow runners tried to pull it away by its tail.
A second American tourist and two more Spanish men were also taken to city hospitals for less serious injuries after falling and being trampled during the frenzied event.
Hospital authorities initially said four people were gored but the regional government revised that down to three.
The American victim was reportedly aged 20 and suffered abdominal injuries.
The gorings were the first to occur this year at the annual festival, in which thousands run with the bulls along a 850-metre route through narrow cobbled streets between a holding pen and the city bullring.
The bull that caused the most havoc in the run was soon guided along the narrow streets to join the rest of the pack.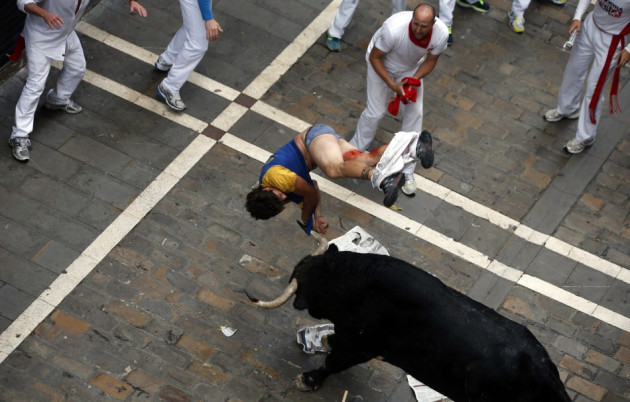 In total, the run lasted around five minutes - twice the length of an average run.
Pamplona's San Fermin festival is one of hundreds of bull-running fiestas held around Spain every year.
A 27-year-old from Madrid was the last person to be killed during a Pamplona bull run, after being gored in the neck in 2009.
The bulls that take part in the runs are killed by matadors in evening bull fights, and their meat is served up in Pamplona's restaurants.