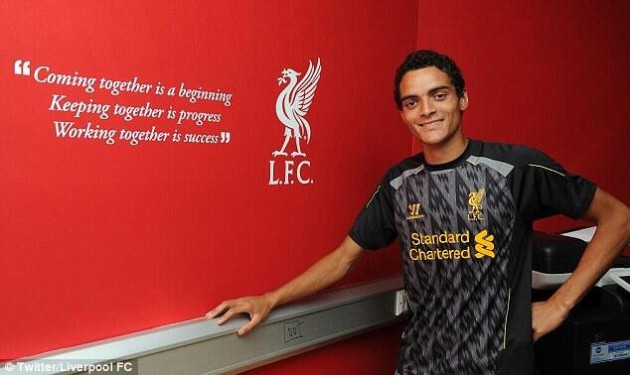 Valencia will ramp up their pursuit of Liverpool defender Tiago Ilori ahead of the upcoming January transfer window with Adil Rami set to join AC Milan, reports The Daily Mail.
Ilori joined The Reds for £7m from Sporting Lisbon, but has been restricted to appearances for the club's Under-21 side with Kolo Toure, Daniel Agger and Mamadou Sakho entrusted in the centre of defence.
With Rami's loan move to Milan iminent after falling out with the Valencia management, the La Liga club are looking for defensive cover and Ilori is a contender to fulfil that role.
Out of the League Cup and without European commitments, only an injury crisis in the Liverpool defensive will improve Ilori's hopes of making his debut in the coming months, meaning he may move on to continue his development.
Despite not being part of the Liverpool first-team, Ilori admits he is not struggling to adapt to life in England.
"There is competition but I'm looking forward to training with these players and learning from them all," Ilori said.
"Mamadou and I came over to Liverpool on the same plane - he travelled from France and I came from Portugal. We had a chance to talk as he can speak enough English to hold a conversation and it was good to meet him.
"I'm just going to do my best to try and adapt and if I can start playing that would be great. I would love to, of course, but I don't know what's going to happen. What I do know is that I'm definitely looking forward to the challenge.
"It wasn't a difficult choice as I think every player wants to come to the Premier League in England, and to such a big club as Liverpool was a great opportunity.
"It was more a case of deciding whether it was the right time to make that step. But I've definitely made the right decision and I'm very happy to be here."