Is today's society addicted to technology? The benefits of the tech we use on a daily basis are plain to see. But with the pervasive influence of social media applications like Facebook, Instagram and Twitter in everyday life, are we becoming slaves to the technology rather than it being just a productivity-enhancing tool for us to exploit?
People are increasingly developing unhealthy relationships with technology, particularly the mobile technology contained in our smartphones and tablet computers, to the extent that you can now seek professional psychological help for technology addiction, much as with other established addictions such as drugs or alcohol.
The Internet of Things in an Always-Connected World
The fact is that the internet is becoming increasingly easy to access, given the advent of wi-fi hotspots throughout cities and the advent of 3G and now 4G mobile phone networks designed to carry ever-larger amounts of data to and from our various mobile computing devices.
Whether you like it or not, and I personally have my reservations, mobile technology is becoming ever more pervasive, with the introduction of wearable technology such as the iWatch, technology-enabled clothing and even now shoes.
This technology growth can be clearly seen in the demand for semiconductor chips, the building blocks of all technology from PCs to mobile phones to sensor-based embedded technology found in domestic appliances, cars and in all manner of industrial automation (Figure 1), with growth in semiconductor demand from the "Internet of Things" forecast by Gartner to grow 36% in 2015.
1: The Internet of Things Semiconductor Revenues by Electronic Equipment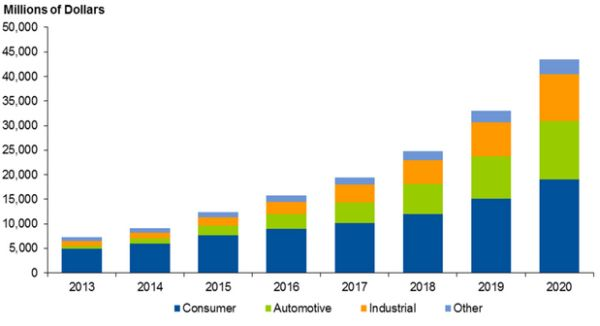 Healthcare Monitoring is a Huge Advantage on the Way
A new source of growth in the Internet of Things relates to health and exercise monitors, which can not only record your pulse, distance walked/run, time slept and calories burnt, but can now push users to adopt "healthy habits" by exercising more regularly throughout the day.
On the basis that in healthcare, prevention is better than cure, this wearable tech area is clearly set to grow quickly in the near future, suggesting that demand for sensors is set to explode. Already there are a wide variety of wearable watches and gadgets that serve to encourage you in a healthier lifestyle, as detailed in this CNET article.
US Technology Has Performed Very Well of Late
This strong growth in revenues as business investment in technology ramps up and as consumers continue to buy into handheld and wearable tech in ever-greater numbers has been reflected in the strong performance of US technology stocks since the beginning of last year (Figure 2) - the technology-heavy Nasdaq 100 index has gained 50% in sterling terms versus less than 10% for the FTSE 100.
2: US Technology Has Vastly Outstripped the FTSE 100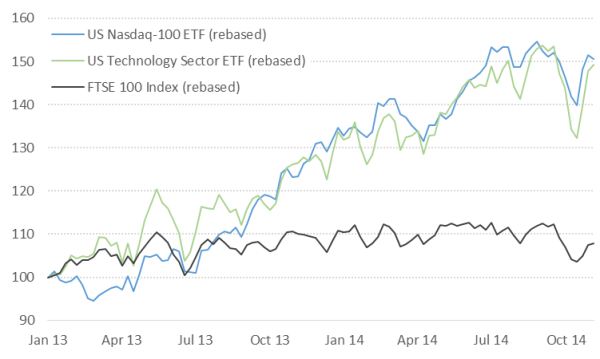 Source: Bloomberg
This outperformance looks very impressive, but needs to be set in the context of the last 14 years, where the Nasdaq index is still struggling to recapture its year 2000 highs, lagging the FTSE 100 over this longer timespan (Figure 3):
3: But the Nasdaq Still Lags from 2000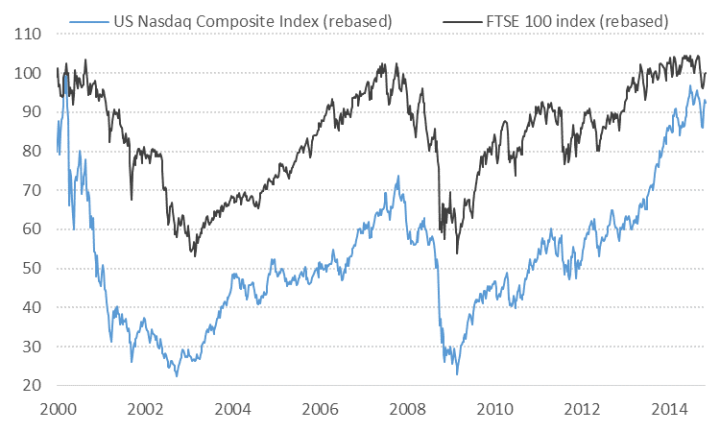 Source: Bloomberg
Best Ways to Invest in Technology
With spending on technology of one sort or another taking up an ever-larger slice of the economic spending pie, I see tech stocks maintaining this outperformance trend going forwards.
I prefer to invest in this theme using Technology-focused exchange-traded funds, such as the two I have listed below. As a side-benefit of investing in one of these exchange-traded funds, a UK or Europe-based investor also has the currency benefits of being invested in US dollars, at a time when the US dollar continues to strengthen against all European currencies thanks to its stronger underlying economy.
The Source Technology S&P US Select Sector ETF (code: XLKQ). This London Stock Exchange-listed fund invests in US Technology heavyweights such as Apple, Microsoft and Google and is quoted in pounds sterling.
The Powershares EQQQ Nasdaq-100 ETF (code: EQQQ). This London Stock Exchange-listed fund invests the constituents of the technology-heavy Nasdaq 100 index, which is comprised of 60% Technology stocks, 15% Biotech & Healthcare stocks, and 25% other sectors. The largest holdings are also Apple, Microsoft and Google, and again is quoted in pounds sterling.