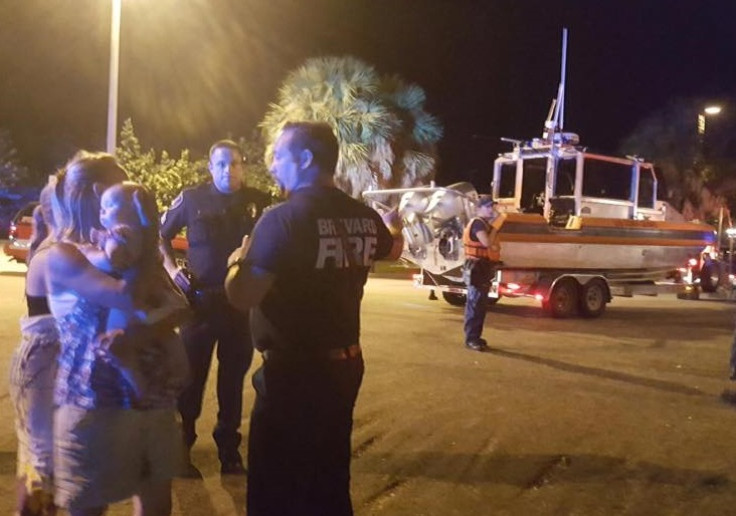 The parents of a toddler feared dead after the family's boat capsized in a Florida river said their frantic search ended in a "miracle" after their daughter was found floating inside an air pocket beneath the vessel.
Tammy and Brian Bossard lost sight of their 23-month-old child after they were thrown into the water when their boat hit a power line as they returned home from dinner on the Indian River on Friday (19 August).
They managed to escape with their seven-month-old daughter Charlotte, but desperately searched the water in the pitch black for a sign of their other daughter, Kennedy.
"I woke up in the water holding Charlotte, and I woke up right next to the boat and I saw a hole in the side of the boat, and climbed on top and shoved Charlotte up there," Tammy Bossard told Kare 11 News.
A frantic call to 911 saw her tell the operator: "I'm in the river. My boat crashed and I have a baby still in the water. Please God send someone now... please hurry."
Four officers jumped into the water to rescue the family and try and find the toddler. They reported hearing cries but couldn't locate where they were coming from.
After nearly an hour's search deputies were ready to give up, fearing the young girl had drowned.
"We were just getting ready to leave and that's when we heard a very light cry," Cpl. Alan Worthy of the Cocoa Police Department said. "I put my ear up to the side of the boat and I was listening and I could hear that she was right there."
Kennedy was found floating in her life vest in an air pocket beneath the boat – something officers say undoubtedly saved her life.
"Usually incidents like this don't turn out like that," officers Matthew Rush said. "A boating accident that severe with that much damage could have been a lot worse. Air pocket in the boat and a life jacket saved her life."
After being rescued Kennedy spent two nights at a local hospital and is now home.
"We thought we were going to lose her... It's a complete miracle that everything worked like it did, because we shouldn't all be here today," Tammy said.