Customers visiting an uptown department store in Tokyo, Japan, from 20 April onwards will be greeted by a humanoid robot receptionist who looks just like a real woman when they enter the store.
ChihiraAico, a lifelike android robot built by electronics manufacturer Toshiba, is able to talk, sing, gesture and cry like a 32-year-old Japanese woman.
When visitors enter the Mitsukoshi department store in Nihonbashi, the robot will greet them in Japanese before directing them to different floors in the building to locate goods they want to buy.
After 21 April, she will be moved to the seventh floor of the department store, where she will act as a guide that shoppers can interact with until 5 May.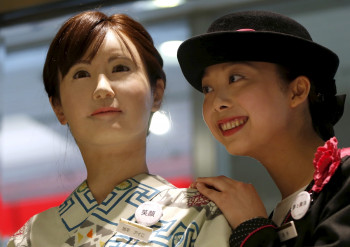 So far, ChihiraAico has been programmed to communicate in Japanese, Korean, Chinese, English and Japanese sign language, and has been designed to help foster "effective communication between humans and non-humans".
"It would be good if we can have [ChihiraAico] provide guidance, or recommend various things in Chinese, so that people can be looking around and think 'oh if Aiko is around, she can speak Chinese!' That's what I hope will happen," Hitoshi Tokuda, Toshiba's new business development division group manager, told Reuters.
According to Toshiba, the robot contains 43 motors that enable it to move and it also features technology developed by Japanese robotics expert Hiroshi Ishiguro, a professor at Osaka University's Department of Systems Innovation who has been developing robots for over 20 years.
Ishiguro is a pioneer in his field and in June 2014, he unveiled Otonaroid and Kodomorid – an adult female android robot and a female child robot – at the National Museum of Emerging Science and Innovation (Miraikan) in Tokyo.
His permanent exhibition set the world buzzing and unnerved many as the robots look almost exactly like the humans they were modelled on and are meant to make people re-examine what it means to be human.
Toshiba has separately been working on the technology that enables ChihiraAico to move its body as well as the systems that sync her voice to the movements of her jaw and lips. But now, with Ishiguro's research and technology, it is possible for great strides to be made in the field of humanoid robots.
The robot cannot yet directly respond to customer enquiries or complaints, though, as her programming is not as advanced as that of Softbank's personal companion robot Pepper, or the 58cm-tall NAO robot bank teller working at Mitsubishi UFJ bank that can speak English, Japanese and Mandarin.
This is the first commercial application of the robot; prior to this, she was showcased only to technologists and the media at CEATEC Japan in October 2014, as well as the Consumer Electronics Show in Las Vegas in January.
"We chose a very realistic appearance and movement, which can be used for the service industry. We plan to extend our technology to an automatic response," Hitoshi Tokuda, manager of marketing for Toshiba's business development division, said in January.
"We plan to use [ChihiraAico] with elderly people who have conditions such as dementia and she can be connected to a counsellor or doctor."