For those who believe that the respective Team GB football squads haven't endured pain and heartbreak to reach the summer's Olympic Games, you need only look in the direction of Tom Cleverley.
The 22 year old saw his international career fail to get out of the blocks during his breakthrough season at Old Trafford, first as the London riots saw England's friendly with Netherlands postponed last August, then in September as he was an unused substitute in the Euro 2012 qualifiers against Bulgaria and Wales.
Amid a glittering start to the season, an ankle injury then saw Cleverley feature in just one league game between mid-September and mid-March, meaning that while his opportunities at United and England were being restricted, his further international ambitions were taking a substantial hit also.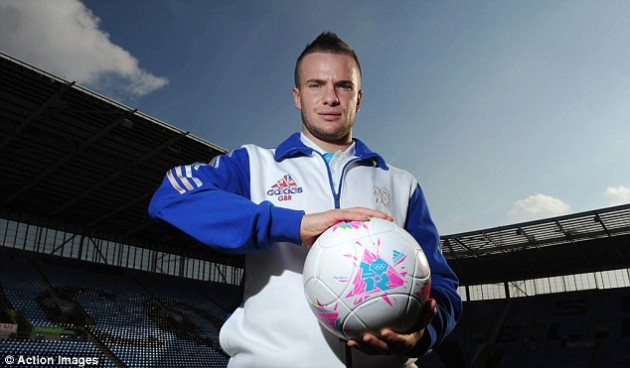 "I knew that if I could get back playing I had a chance and obviously I know the gaffer from the 21s but it's been playing on my mind for a while," he told IBTimes UK. "About a year ago the 80-man list was named and there were a lot of United players in that and to get in the final 18 hopefully the starting XI is very exciting for me."
Sporadic appearances in United's title run in saw Cleverley thrust himself into contention, and amid injuries to Frank Lampard and Gareth Barry, Michael Carrick's refusal to be considered as a standby player and the uncertain form of Jordan Henderson, the Basingstoke born midfielder can consider himself unfortunate not to be included in Roy Hodgson's maiden England squad.
"It was always in the back of my mind that I wouldn't be going, or that I wouldn't be starting the season," Cleverley admitted. "I think anything could have happened.
"At the start of the season you want to go to these sorts of tournaments so I was disappointed and as a fan I was disappointed because of the outcome of the tournament but hopefully we can bounce back as a country and as a footballing nation.
"I sure Roy Hodgson will be watching these games and on a big stage at international level hopefully I can impress him and get in amongst the England squad again.
"Unfortunately I didn't manage to get my first cap at the start of last season for different reasons but I'll be treating this not only to try and win a medal but to try and impress the England manager and the Manchester United manager."
While Cleverley freely admits the Olympics can enhance his club and international aspirations, for one whose experience of the big occasion is few and far between, his desire to experience the atmosphere of a major tournament is undeniable.
Having been selected in the original long-list for the Games compiled by Pearce last year, Cleverley has retained half an eye on competing, achieving a return to fitness in the twilight of the season; all geared towards making the staggered cuts in Stuart Pearce's squad selection.
"It's a massively proud moment not only for me but for my family, to have an Olympian in the family they're all very proud and it was a great feeling when I got the call from Stuart Pearce saying I was selected," he gleamed.
"I'll have family at every single game, my mum and dad seem to get everywhere to watch me so it will be a very proud moment for me.
"Anderson said he's been to one before and said it was a great tournament to be a part of and obviously with Giggsy being selected as well it makes it more exciting for me and all the other lads here and it's been a great time for all of us."
Expected to play a prime role in Team GB's Olympic campaign, Cleverley could have more to gain than just a step up in his career.