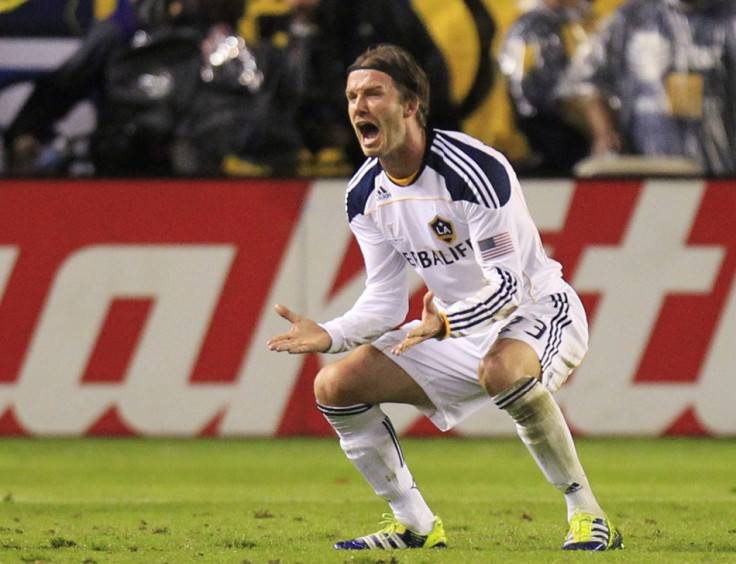 Hollywood icon Tom Cruise admits he would love to co-star in a film with Manchester United legend David Beckham.
The 49-year-old Mission Impossible star indicates Beckham, who won six Premier League titles, two FA Cups and the 1999 Champions League during his remarkable Manchester United career, is ideal fodder for ambitious Hollywood producers, and Cruise admits he would ideally like to do an action film with the Old Trafford hero.
The Manchester United icon, who left Old Trafford in 2003 before embarking on a footballing career that took him to Real Madrid, La Galaxy and briefly AC Milan, is a close friend of Tom Cruise and their wives Victoria Beckham and Katie Holmes are also close.
Cruise believes Beckham, who returned to Manchester United during the summer in order to play in Gary Neville's testimonial at Old Trafford, is tailored made for the movies and Cruise, one of Hollywood's most powerful stars, is reportedly believed to looking for the right script for the 36-year-old.
Speaking at Tuesday night's UK premiere of Mission Impossible: Ghost Protocol, Cruise told the Daily Mirror that the Manchester United legend could teach him to play 'soccer' in return for launching Beckham's career in Hollywood.
"I'd love to do action movies with (David) Beckham. He would be great, he could kick ass." Cruise said of the Manchester United and Real Madrid legend.
"David would have to teach me to play soccer first."
The Manchester United hero famously had cameo roles in the widely lambasted 'Goal' film franchise yet despite Beckham's wooden performance playing himself, Cruise believes one of the world's most instantly recognisable footballers would make a perfect villain.
"He would make a great baddie." Cruise said of the Old Trafford star, whose acrimonious departure from Manchester United was hastened when Sir Alex Ferguson infamously and accidently kicked a football boot at his head.
While few in this country could envisage the ex-Manchester United winger making a successful transition into film, it appears Cruise is far more convinced.
A source told the Daily Mirror: "David has been linked with Hollywood a number of times, but Tom is the only one he'd ever take up, he thinks Tom's a legend. He'd still like to have a sporting element to it. Tom's a sporty guy, too, so any collaboration would be about something competitive."
Although Cruise has high hopes for Beckham's post-footballing career, the Manchester United hero is reportedly on the cusp of agreeing a deal to join Paris Saint-Germain suggesting Holllywood will have to wait for England's most capped outfield player to hang up his illustrious boots.