Blackpool have turned down a £6.5million bid from Reading for talented young winger Tom Ince, news that is sure to alert Liverpool who have been linked with the 20-year-old for some time.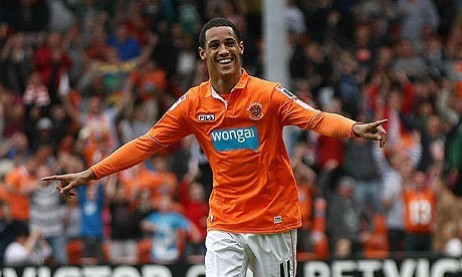 Blackpool seem reluctant to part with their star asset before the end of the season but it is clear that Reading manager Brian McDermott is hopeful he can land the winger before the transfer window closes on Thursday evening.
"We've made a bid, we're waiting on Blackpool to come back to us on that one," McDermott said before the bid was rejected. "He's a Blackpool player so it's difficult for me to talk about players that don't belong to us.
"He's got quality, he can play number 10 or out wide on either side, he loves his football and can score or create goals. He's got a real hunger. He's a good player with potential, I imagine there's a lot of interest in him. But once again I have to say this is a player who doesn't belong to us," said McDermot, as quoted on ESPN.
The offer was believed to be around £6.5million which falls some way short of the initial £8m asking price set by Blackpool for the winger who has scored 15 goals for the Seasiders so far this season
However, the news may well interest Liverpool who have already seen two attempts to land the midfielde fail this month. With speculation increasing regarding Stewart Downing's future at Anfield, another offer from Brendan Rogers could be on the cards.
Liverpool are currently attempting to complete a deal for Philippe Coutinho to join from Inter Milan but Ince has been a long-term target and may still be of interest to Rodgers.
Meanwhile Reading have had a busy window. Having already signed Daniel Carrico, Hope Akpan and Stephen Kelly, they have now had a £1.25 million bid for Sheffield United striker Nick Blackman accepted and it seems McDermot could still be looking to add to his squad.
"We're trying. We've got a couple of targets that we've had for a while. Whether the deals happen or not, time will tell," he said. "And as far as people leaving, one or two perhaps, we'll see on that. I'd always speak to those players first.
"But if we don't sign anyone else in this window I'll still be happy. We've signed three players already and we're moving in the right direction. The most important players are always the ones who are here, not players who play for other clubs.
"If you do deals that you think can add to your squad then great, but if not I couldn't be happier to go with the players we've got."