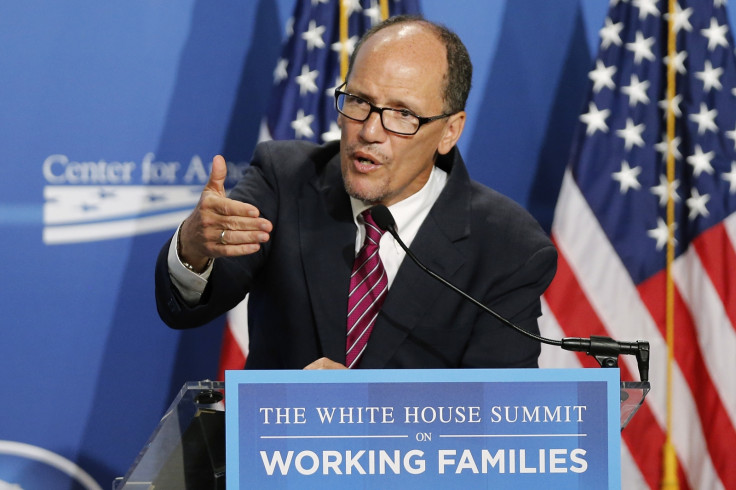 Former Secretary of Labor Tom Perez was nominated by Democrats as the new chairman of the Democratic National Committee (DNC). Perez, who becomes the first Latino to hold the position, managed to beat liberal Minnesota Representative Keith Ellison in the second round of voting by DNC members in Atlanta.
Perez has the daunting task of rebuilding the Democratic Party, which has lost around 1,000 elected posts in the last 10 years, and uniting its members.
After winning by a mere 35 votes, the new chairman chose Ellison to serve as his deputy chairman, the Associated Press reported. "We are all in this together," Perez said, calling on his party to fight "the worst president in the history of the United States."
Ellison, who had the support of many progressives in the party including Vermont Senator Bernie Sanders and New York City Mayor Bill de Blasio, also called for unity and said the two had the joint mission to rebuild state and local Democratic parties throughout the US. "We don't have the luxury of walking out of this room divided," he said.
Though Ellison placed his support behind Perez after the results, his supporters remained steadfast in their commitment to shakeup the party. "It is imperative that Tom understands that the same-old, same-old is not working and that we much open the doors of the party to working people and young people in a way that has never been done before," Sanders said in a statement, according to CNN.
"Now more than ever, the Democratic Party must make it clear that it is prepared to stand up to the 1% and lead this country forward in the fight for social, racial, economic and environmental justice," he added.
Perez, meanwhile, received praised from his former boss, President Barack Obama. The former commander-in-chief said his party has a record of expanding the economy, creating jobs, expanding healthcare and keeping Americans safe, CNN reported.
"That's a legacy the Democratic Party will always carry forward," Obama said. "I know that Tom Perez will unite us under the banner of opportunity, and lay the groundwork for a new generation of Democratic leadership for this big, bold, inclusive, dynamic America we love so much."
Perez also received the congratulations of Republican President Donald Trump, who squeezed in a jab in his tweet. "Congratulations to Thomas Perez, who has just been named Chairman of the DNC," Trump wrote. "I could not be happier for him, or for the Republican Party!"
The new DNC chair quickly shot back: "Call me Tom. And don't get too happy. @keithellison and I, and Democrats united across the country, will be your worst nightmare."