Arsenal midfielder Tomas Rosicky says defeat to Tottenham Hotspur did the club a favour in their attempts to qualify for the Champions League with the Gunners having strung together three successive league wins to go within two points of their north London rivals.
Rosicky struck his first league goals for 14 months in the victory over West Bromwich Albion to capitalise on Spurs' disastrous run of form, which has seen them win one of their last four since the victory over Arsenal in March.
With a game in hand and a two-point deficit to make up, Arsenal hold the initiative in the race for the fourth Champions League spot and Rosicky points towards that defeat at White Hart lane as the turning point in his side's season.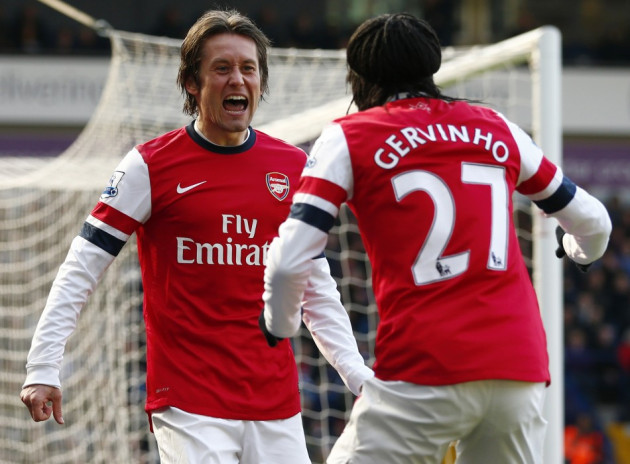 "When we lost to Tottenham, we did two stupid mistakes and were punished for it. We tried to correct it. And you could see the improvement in Munich, it was much better. We know what our problems are and we're trying to solve it," Rosicky said.
"The last couple of games we've produced some good football. It always gives you confidence when you win in Munich and when you have such a difficult game [on Saturday], where in the last 20 minutes, we've got our backs against the wall. It gives you a big lift.
"It's difficult when you're not playing. You want to be part of the team. Only way you can get into the team is through hard work.
"You have to convince the manager that you're part of the team. That's what I am trying to do. Everyone wants to play. I am very glad to contribute again. I hope I can continue like that."
Per Mertesacker's dismissal for a foul on Romelu Lukaku looked like dismantling Arsenal's good work at The Hawthorns, but despite James Morrison's penalty, the visitors discovered a new found resilience to salvage all three points.
Without the distractions of Europe, and with Theo Walcott and Jack Wilshere set to return this weekend, Arsenal are the favourites to qualify ahead of Tottenham for next season's Champions League, while their favourable run-in all hands them a significant advantage.
Arsene Wenger's side face Norwich City and Fulham either side of hosting fellow Champions League contenders Everton in the coming weeks while Tottenham must travel to Chelsea and relegation threatened Wigan Athletic, trips which sandwich the visit of Manchester City.