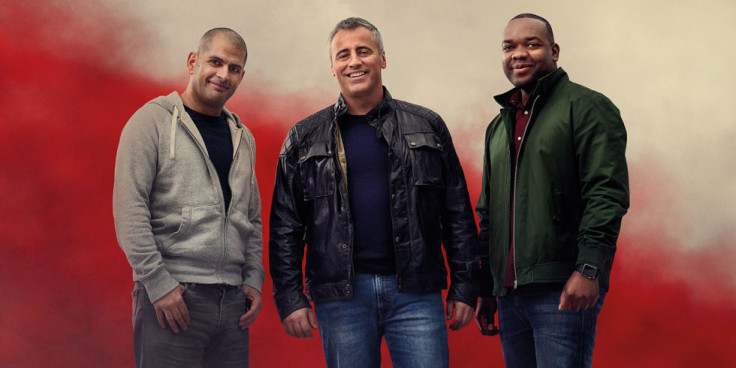 The second series of the revamped Top Gear is returning in a matter of weeks, with Matt LeBlanc fronting the show without former host Chris Evans.
After Jeremy Clarkson's huge Amazon Prime hit The Grand Tour wowed viewers at the end of 2016, BBC bosses must be feeling the pressure more than ever.
But Top Gear fans can rejoice as the motoring show is coming back to screens sooner than expected, with the 24th series launching on Sunday 5 March at 8pm on BBC2.
Last year's highly-anticipated series starring both LeBlanc and BBC radio host Evans began in late May, but it looks as though the Top Gear team have put their foot on the accelerator this time around.
BBC2 have already released a brand new photo of the main hosts, as Rory Reid and Chris Harris will join the Friends star on the show and offer their car expertise. The trailer for the new series, which has been appearing during breaks between BBC programmes over the past week, shows the three presenters being forced to sit through an awkward BBC car insurance interview.
Rumours that the BBC are trying to emulate The Grand Tour have been circulating since the trailer release, with a source telling The Sun: "The new trailer clearly shows the BBC attempting to establish the hosts as a trio. They had such great success with the former team, so it's no surprise they're hoping the formula will work once more."
There is of course no sign of Evans since he quit the motoring show in July last year; he was met with mixed reviews from Top Gear fans over his presenting skills and the show's ratings went into freefall with him at the wheel. Also not returning for the newest offering is German racing driver Sabine Schmitz and F1 boss Eddie Jordan.
Viewers seem skeptical about the Top Gear return, with fans replying in their hundreds when the trailer was released. One Twitter user said: "it's dead, grand tour is killing it" as another put: "You fired the others? Best choice you've done! These trio are waay better than the 6 you had".
A third added: "good luck hopefully it won't suck like last season."
Tune into Top Gear at 8pm on BBC2 on 5 March.