Mary Berry and the word "replacement" shouldn't be allowed in the same sentence, but lo and behold, Channel 4 has only gone and got a new judge to co-star alongside Paul Hollywood for the Great British Bake Off.
The 81-year-old television star and culinary goddess decided to throw in the apron after it was announced that the show would be moving from the BBC to Channel 4 at the end of 2016, and her replacement for the 2017 series has been revealed.
Prue Leith, 76, will be replacing her on the amateur baking show, and she's got some big boots to fill. Channel 4 bosses reportedly see her as a "like for like" replacement for Berry, with a source telling The Sun: "In cookery circles, she's practically royalty.
"Both are from similar backgrounds, so hopefully viewers will be accepting and give Prue a chance to win them over.
"Following in Mary's footsteps is a big challenge. But the producers are confident that Prue has all the attributes," they added.
So who is Prue Leith, and has she got the credentials to replace the legend that is Mary Berry?
Leith no doubt gives Berry a run for her money in terms of her culinary career: she has been everything from a restauranteur, caterer, television presenter and broadcaster as well as a journalist, cookery writer and novelist. This lady doesn't keep all her cookies in one biscuit tin, that's for sure.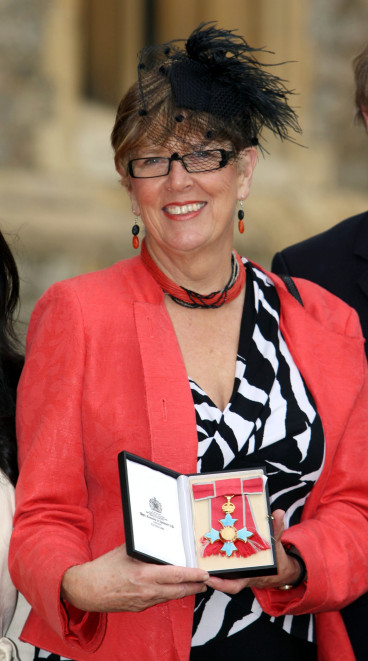 She was born in South Africa, but her working life has been spent mostly in London, and she is the Chancellor of the Queen Margaret University.
From the age of five until she was 17, Leith attended St Mary's School, Waverley, which is an English independent private boarding school for girls in Johannesburg run by Anglican nuns.
She first began a food-related career in 1960 when she started a business supplying high quality business lunches which later became Leith's Good Food – a party and event caterer. The success of her small business led her to open her own Michelin-starred restaurant Leith's in 1969.
With everything she touches turning to gold, she founded Leiths School of Food and Wine in 1975, which trains professional chefs and amateur cooks – and the group reached a turnover of £15m ($18.7m) in 1993 when she sold all but the restaurant which she later sold in 1995.
Aside from her hands-on culinary career she has been a food columnist for a number of newspapers including the Daily Mail, Sunday Express, The Guardian and Daily Mirror, and has written a number of cookery books and six novels. Along with her busy working life, she has also made time to found and run many charities, mostly to do with food including Focus on Food which mainly works in schools.
Her passion and dedication to her career lead to receiving many honours including the Veuve Cliquot Business Woman of the Year in 1990, and eleven honorary degrees or fellowships from UK universities.
Leith was married to author Rayne Kruger for 38 years until his death in 2002 at the age of 80. The couple had two children, a son and a daughter. Leith's son, Danny Kruger, was once a speechwriter and advisor to former British Prime Minister David Cameron.