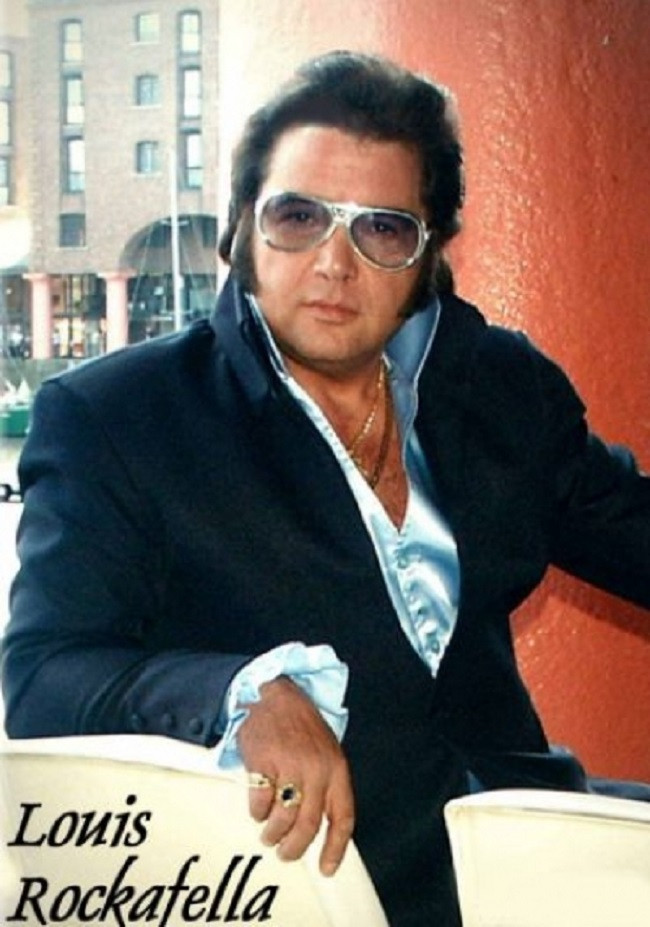 A British Elvis impersonator faces jail after admitting to a string of child porn offences.
Louis Fella, who once sang for Elton John and toured with Elvis\'s original backing singers, the Sweet Inspirations, has been exposed as a paedophile.
The 53-year-old former truck driver was caught with more than 900 indecent pictures and films of children taken between November 2009 and April 2013, which he also shared with others.
Fella pleaded guilty to 19 counts of possessing and distributing indecent images of children at Liverpool Crown Court. He also admitted to possessing three indecent movies of children.
He was released on bail until his sentencing next month, and promptly appeared as \'The King\' at Marine Lake Café, on Southport seafront, where bosses believed he\'d been in court for having counterfeit CDs.
The manager told the Liverpool Echo that if they had known the truth Fella would not have been allowed to perform.
\"We didn\'t know anything about this. I\'m astounded,\" the cafe manager said.
\"We\'ve been hoodwinked, we\'ve been lied to. He wasn\'t meant to be performing today. He just turned up.
\"He won\'t be performing here again. I just can\'t believe it.\"
A friend of Fella said he was shocked by his conviction, saying: \"He is a cracking laugh - he is the last person I could think of that would do something like this. It\'s despicable.\"
Fella, who started singing when he was 12, had carved out a career impersonating Elvis across the world and serenading A-list celebrities such as Tom Jones, Shirley Bassey and Elton John at the latter\'s famous charity White Tie & Tiara Summer Ball.
He had even appeared on the Jerry Springer Show in the US.
Fella was also joined by the late Myrna Smith, the original backing singer from the Sweet Inspirations, in 2001, when he performed at the 9th Annual Elvis Festival in Indiana, in the US.
On Fella\'s promotional website Elvis4uk, Smith is quoted as saying: \"Louis, love your voice and your style! You are the complete gentleman!\"
Record label Sony BMG enlisted the help of Fella, in 2002, to promote the international No.1 selling album, Elvis 30 No.1\'s. According to Fella, the label later gifted him a replica Elvis-owned Gibson guitar as a thank-you for helping keep the memory of Elvis alive.
In a 2005 BBC documentary, the narrator talked about Fella\'s tour with the Sweet Inspirations, saying: \"never has a British impersonator come so close in stepping into Elvis\'s shoes\".