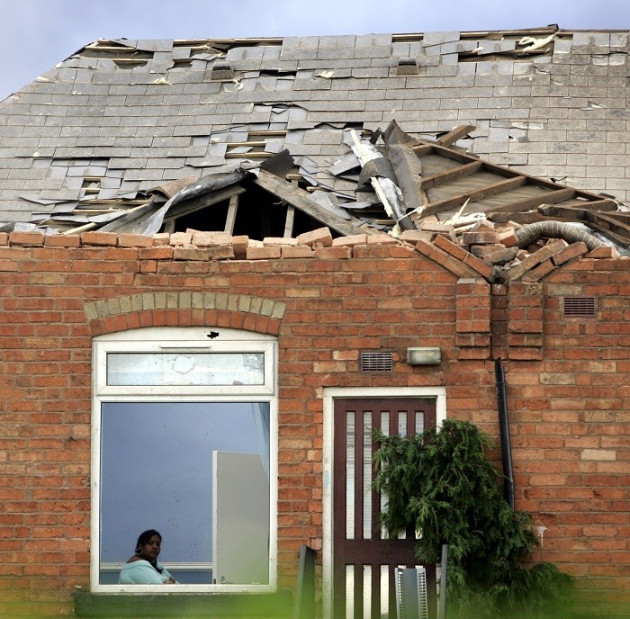 A mini-tornado hit Hayling island, Hampshire, on Sunday morning, damaging around 100 homes.
Havant Borough Council said properties in Blackthorn Road and Ilex Walk were damaged by the 45-50mph winds at about 8am. Some minor damage was also reported at Silversands Gardens.
There were no reported injuries and the emergency services were no longer in attendance at 1pm.
A council spokesman said: "Building control officers have inspected the damage to the affected properties and are satisfied that the buildings are safe.
Hampshire County Council (HCC) Highways and HBC council officers have removed debris from the area and HCC officers are still clearing fallen trees."
Carol Pemberton, who lives in Ilex Walk, described the experience as "frightening".
Hampshire Constabulary received calls regarding damaged vehicles, power lines, and beach huts.
Pemberton told Portsmouth News: "It was so loud and it really scared me and I don't scare easily. I was shocked at how much damage had been done.
"My fence panels were ripped out along with some roof tiles. My garden furniture was all over the place and my tree had blown over."
Another resident, from Blackthorn Road, said it was as bad as the 1987 hurricane.
Clive Loader said: "It scared me to death.
"I have not seen anything like it since the 1987 hurricane."
Kayla Killshaw-Laing, who was only staying for one night, told the BBC: "There was this horrendous crashing sound... the dogs were barking so I went to the window and looked out and this huge tree just landed on top of my parents' car.
"I was in a panic... I'm just staying here for the night, I was here to tidy their front garden, how ironic.
"We've had to have chainsaws to saw the whole thing up and remove it, but the caravan flipped over next door."
Ian Hoult, head of emergency planning at Hampshire County Council, said a number of roofs had been damaged and trees uprooted.
He said: "Fortunately we don't know of anyone being hurt, but it's an interesting situation for a Sunday morning."