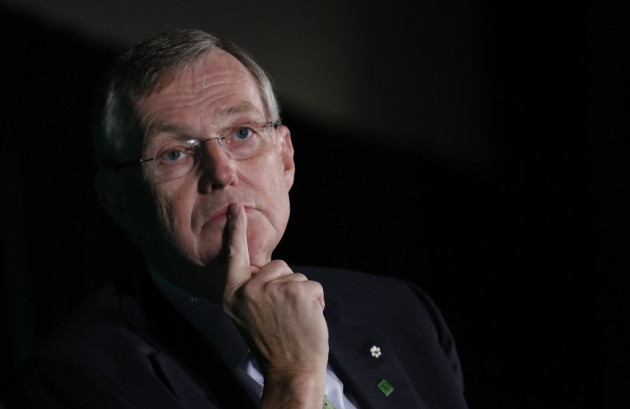 Toronto-Dominion chief executive Ed Clark said he was not "trolling" the US market in a hunt for deals.
Canada's second largest bank Toronto-Dominion has been the speculation of rumours that it will make a large acquisition in the US at some point.
"We're not spending our time trolling the M&A market in the United States. We don't need a deal," he said.
Toronto-Dominion has been linked to claims that it would buy Citizens, the US arm of the Royal Bank of Scotland, but this was false according to Clark.
In a transcript of an October 17 investment presentation posted on the bank's website on the 21 October, Clark repeated a line he had taken in February that dismissed any notion of TD buying Citizens.
"What I said (in February) is still where we would be today," he said.
Previously, Clark had played down rumours that TD might purchase Citizens as it would not meet TD's acquisition's criteria, he claimed.
Speculation that TD was interested in Citizens was stoked again last week when the Sunday Times reported that TD was considering a bid for it.
The fact that TD was not keen to acquire Citizens was expanded by Clark's other comments about other TD's investment intentions in the US market.
Yet he also said that he could not rule out the possibility of an acquisition of a lender in the US.
"It'd be irresponsible if someone called and said, 'I got a deal you can't turn down', then we would say, 'well, we can and we're not even going to look at it.' That would be irresponsible," he said.
TD operates a 1,300 branch network on the eastern seaboard.
RBS
The British bank giant has been put under pressure by Chancellor George Osborne to become a more domestically focused bank.
The UK government has an 81% stake in the group and has been keen to return it to profit and the private sector.
However, before any sell off of RBS can take place and be returned to private hands, two obstacles have to be passed.
Firstly, any legal claims that were made against RBS have to be settled before it is sold off.
It has until November to file a defence against numerous lawsuits from loss-hit investors who are challenging the troubled bank over a 2008 share offering before its dramatic rescue from total collapse by the UK government.
Among those named in lawsuits against RBS are several large institutional investors, including Prudential, Universities Superannuation Scheme (USS), Standard Life, and Legal & General. There is also RBoS Shareholder Action Group, which is representing over 12,000 retail investors.
Secondly, the European Commission (EC) has yet to grant Osborne's permission to sell the bank and break it up.
Osborne has talked about splitting the bank into a good part and a bad part.
The chancellor approached the EC in October asking for permission to break up RBS into two parts but he is still waiting for a response as any sale must comply with European Union rules.
Offloading RBS's large presence in the US market through selling Citizens could be a way to shrink the bank and make it more focused on retail consumers in Britain.