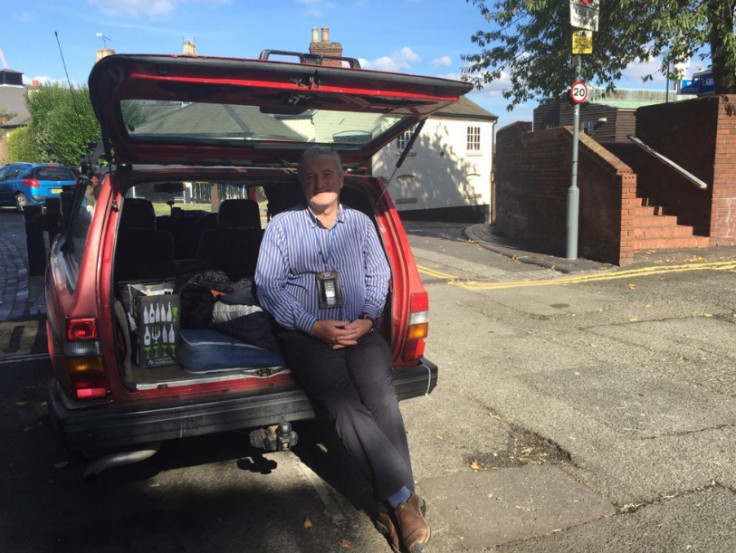 Food, drink, travel and accommodation can make conference season an expensive businesses for the party faithful.
But Camden councillor Jonny Bucknell has one simple, Volvo estate-sized solution – he has been sleeping in the back of his car for at least the past six Conservative summits to cut down on costs.
IBTimes UK met up with Bucknell, 59, outside the lastest Tory conference in Birmingham today (3 October).
"I had [the car] decked out for camping in some time back, because it's no different to sleeping on my boat, so I could get really cheap digs in Blackpool, and then when [the Conservatives] ditched Blackpool, I just took one look at the prices for hotels and I thought 'let's do this'," he said.
Bucknell did not tell anyone that he slept in the back of his car "for a couple of years", and he's never worked out how much he has saved over the years.
"It's just fun," he said. "I actually felt quite excited last night driving around Birmingham trying to find my old patch because I couldn't remember where I left it."
As for any trouble over the years while sleeping in the car, Bucknell revealed someone tried to steal the bicycle off the back of the Volvo in Birmingham.
"That spooked me," the Tory activist said. "There was one time where I parked up in a car park in Manchester and that was really dark and I thought: 'I can't hack this'." Outside of conference, Bucknell said he once slept in the back of the car when he attended a wedding in Cornwall.
The Volvo is kitted out with a mattress and sleeping bag, and is well stocked with wine and food. For his hygiene needs, other Tory delegates have offered the use of their hotel bathrooms or Bucknell visits the local swimming pool to use its facilities.
Some Conservative delegates, meanwhile, have had to fork out for a room at the four-star rated Hyatt Regency. A standard room costs £140 a night if you book for next week, according to the LateRooms website.