The Tories face a major embarrassment as one of the party's top female ministers is set to lose her seat to Labour in May, according to Lord Ashcroft.
The Tory peer, who questioned more than 1,000 voters in Wirral West between 3 and 12 March, found employment minister Esther McVey is behind five points behind her Labour rival Margaret Greenwood (37% vs 42%).
Former TV presenter McVey won the Merseyside constituency in 2010 with a majority of 2,436 and a 42.5% share of the vote.
The projection was part of Ashcroft's analysis of eight key Labour/Conservative marginals ahead of May's election.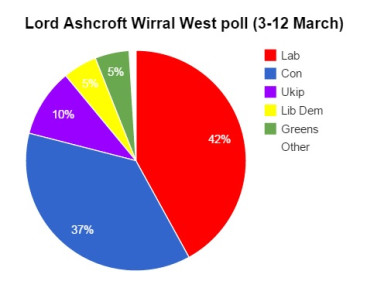 The Tory peer found David Cameron's party would only hold on to one of the hotly contested seats and tie another with Labour.
"My findings this time suggest the better national news for the Conservatives is not spread evenly across the battleground. In only one of the seats, Worcester, has a Labour lead turned into a Tory one," Ashcroft said.
"In Croydon Central, the Labour lead has fallen from six points to four [in a seat that shows the biggest shift between the standard voting intention question and the result when people are asked to think about their own constituency and the candidates likely to stand there]."
The data will be a blow to Cameron and the Conservatives with just more than seven weeks to go until election day. But the figures do come before the 2015 Budget, where Chancellor George Osborne is expected to announce a number of vote-winning measures.
Ashcroft's latest national poll, which questioned more than 1,000 voters and was conducted between 13 and 15 March, put the Tories two points ahead of Labour (31% vs 29%). The survey also put Ukip on 15% and the Liberal Democrats and the Greens both on 8%.