A Tory MP has hit back at suggestions that he is going to be the latest Conservative to defect to Ukip, after he was photographed with Nigel Farage.
Wrekin MP Mark Pritchard was snapped with the Ukip leader after the launch of Lord Ashcroft's Special Ops Heroes book, which has a forward written by former SAS soldier Andy McNab.
The backbench Conservative told IBTimes UK that he has known Farage for "years" and the pair agreed on "some things, but disagree on many others".
"We had just finished talking with McNab and then decided to leave the function together," Pritchard said.
"It's just a friendly photo, not a sign of any political allegiance, unless Farage is thinking of re-joining the Conservative Party?"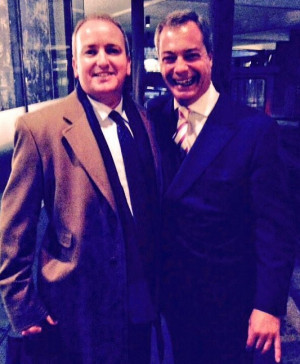 The comments come ahead of the Rochester by-election on 20 November, where Conservative defector Mark Reckless is tipped to win.
A poll from Lord Ashcroft has put him 12-points ahead of the Conservative candidate, Kelly Tolhurst (44% vs 32).
Ladbrokes recently revealed that the Conservative MP most likely to defect to Ukip before Christmas was at school with Nigel Farage.
The bookmaker put Kettering MP Philip Hollobone as the most likely Tory MP to jump ship at 2/1.
Hollobone and Farage were both pupils at Dulwich College, a prestigious private school for boys in southeast London costing £15,000 a year.
The Eurosceptic 50-year-old has been one of the Coalition Government's most rebellious MPs.
Hollobone went against Prime Minister in the House of Commons 129 times between May 2010 and May 2013, according to University of Nottingham academics Philip Cowley and Mark Stuart.
In comparison, the researchers revealed that the most rebellious Liberal Democrat MPs at the time (Andrew George and Mike Hancock) only voted against the government 44 times over the same period.
But Hollobone ruled out defecting to Ukip earlier in the year and stressed that he supported David Cameron's promise to offer voters a referendum on the UK's membership of the European Union (EU) in 2017 if he gains power after the 2015 General Election next may.
"I am not defecting to Ukip," Hollobone told the Northamptonshire Telegraph in September.
"I believe that we need a referendum on Britain's membership of the EU and should we ever get that referendum I shall be voting for Britain to leave the EU so that we can get back control over our borders once again."