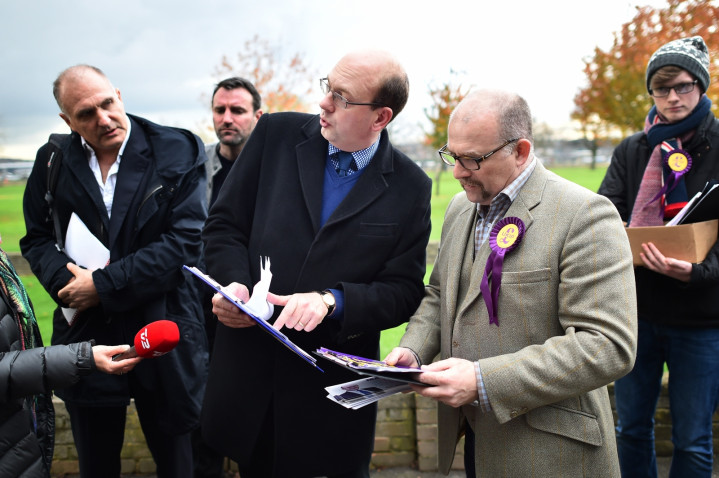 European Union (EU) migrants should be deported from Britain "after a fixed period" if the UK leaves the economic and political union, Mark Reckless has suggested.
The Ukip candidate for the forthcoming Rochester and Strood by-election failed to rule out the idea that some migrants could be forced to leave the country after a UK exit from the EU.
The Conservative defector was asked during a hustings hosted by ITV whether a Polish plumber, who had lived in Britain for years, would be forced to leave.
"In the near term we'd have to have a transitional period, and I think we should probably allow people who are currently here to have a work permit at least for a fixed period," Reckless said.
"People who have been here a long time and integrated in that way I think we'd want to look sympathetically at."
Naushabah Khan, Labour's candidate for the by-election, challenged Reckless over the comments.
"Where would you stop, Mark? My family are migrants, are we going to say they need to go back as well?" Kahn said.
The question was raised after a poll by ICM for thinktank British Future, which surveyed 2,000 people, found that a quarter (25%) of UK voters want to repatriate "all immigrants".
But Ukip has now "clarified" Reckless' position and referred to the party's policy that EU migrants would be able to stay in the UK in the event of an exit.
Reckless is favourite to win the by-election as he holds a 12-point lead in the opinion polls, according to Lord Ashcroft.
The 43-year-old, a friend of fellow Conservative defector Douglas Carswell, won 49.2% of the vote in the 2010 General Election and holds a majority of more than 9,000.
But the Conservatives have put up a strong fight against Ukip in the consistency in a bid to not lose a consecutive by-election contest to Farage's party.
David Cameron, for instance, has made five visits to Rochester and Strood ahead of the vote.
However, it emerged that the Conservatives' candidate had attacked the Prime Minister over his immigration record.
A leaflet distrusted to voters across the constituency claimed that Kelly Tolhurst told Cameron that the area "needs action, not just talk, on immigration."
The literature, entitled Kelly Talks, also claimed that the 36-year-old businesswoman said she has seen the negative impact of "uncontrolled immigration".
"I've seen the negative impact that uncontrolled immigration can have," the leaflet quotes the Conservative candidate.
"People I grew up with have struggled to get a house, they've seen their wages under pressure and my friends who are now parents don't have the choice over school places they deserve."
The Office for National Statistics (ONS) recently said that net migration to the UK jumped to 243,000 in the year to March.
That figure is well below Cameron's pledge to get net migration below 100,000 by May 2015.