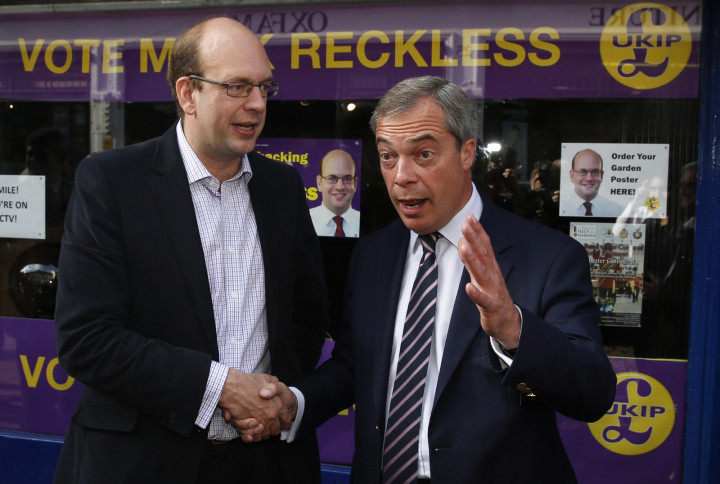 Mark Reckless is an Oxford-educated fat arse who will drag down local house prices if he wins the Rochester and Strood by-election. And he's not even from the local area.
These are just some of the ways in which the Conservative party – from which Reckless defected to Ukip, triggering the by-election – have sought to convince Rochester voters to back them over their former comrade. It's a hyper-personalised attack campaign to discredit Reckless. And it's failing.
The trouble for the Tories and Lynton Crosby, the party's chief election strategist to who they pay £500,000 a year, is that negative campaigning doesn't always work. Which is unfortunate because it's Crosby's speciality.
"Good negative campaigning works, bad negative campaigning doesn't," Anthony Wells, associate director of YouGov's political and social opinion polling, told IBTimes UK. "The Reckless ones look particularly ill-judged."
The Reckless defection to Ukip, the rising populist eurosceptic party hoovering up disaffected Tory and Labour voters, stung the Conservative leadership.
His new Ukip colleague Douglas Carswell did the same before him and even increased his majority in the Clacton constituency by doing it. The Conservatives were reeling from two high-profile defections. So they're on the revenge attack and it's personal.
Reckless is being Crosbied.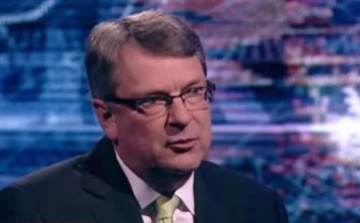 Lynton Crosby
Crosby is well-known for his aggressive style of political campaigning. He's a Malcolm Tucker figure, a blunt, brash and sweary Australian. And he's not afraid to get dirty with negative campaigning.
He masterminded former Conservative leader Michael Howard's loss in the 2005 general election, though he increased the party's number of Commons seats. His plan was simple: dog whistle politics.
And he's very much an advocate of play the man not the ball. Which is why the Tories are focusing on the awkward Labour leader Ed Miliband's well-documented image problems as a central part of their electoral strategy.
Now Mark Reckless, with the ball at his feet, has just felt Crosby plough through his knees.
A Reckless campaign
The Conservatives' latest leaflet ahead of the by-election on 20 November highlights that Reckless isn't a Rochester local, is a politics graduate from Oxford University, and worked as a political researcher and investment banker before becoming an MP.
The problem for the Tories is that none of this stopped them selecting him three times for Rochester and Strood. And much of the above can describe half of the front bench, including the Oxford PPE graduate and former political researcher David Cameron. Who they made their leader.
"It doesn't look like a genuine concern," Wells said.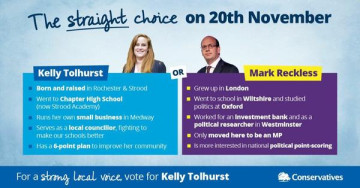 And there was something not seen before in British politics: a US-style attack ad by the Tories on Reckless.
The dramatic production has intense backing music and a fiercely earnest voiceover, with slow-motion footage of Reckless speaking in parliament.
Its seriousness and intensity suggests the subject matter is of grave national importance. But really it's about the perceived hypocrisy of Reckless over a local issue.
In the past, as a Tory, he supported a local housing project around which there were environmental and wildlife concerns. His comments during the by-election show he is now against the development.
"WATCH the shocking video Mark Reckless, Ukip's by-election candidate, doesn't want you to see," said the Conservatives' Facebook page, where the video was first published.
"Using footage he tried to hide – and only yesterday removed from his website – it shows how he'll say anything to get elected. Everyone needs to see this – please watch and 'share' this important video now."
At the fringes of the Conservative party conference, a candid Cameron had made his anger at Reckless's defection known.
He was reportedly telling party delegates that volunteers had "knocked on doors, stuffed envelopes and licked stamps to get his fat arse on the Commons benches, and this is how he repays them".
In another behind-the-scenes comment, Cameron reportedly said if Reckless had "got off his fat arse and worked harder he wouldn't have to defect to Ukip to save his skin".
Perhaps the most eyebrow-raising criticism to come out of the Conservative strategists' office is the claim that house prices will fall in Rochester if Reckless and Ukip win the by-election.
"The danger is if you vote Ukip, the value of your house will go down," Charles Walker, the Tory MP for Broxbourne, told The Telegraph as he campaigned in Rochester.
The theory is that a Ukip victory will paint a negative picture of the town because of the party's anti-immigration rhetoric and perceived Little Englander mindset, therefore putting people off of buying houses there. It smacks of desperation.
"This is more personal, more pointed and probably moving further away from evidence and further into personalised attack," Dr Alun Wyburn-Powell, an elections expert and visiting lecturer at City University London, told IBTimes UK.
By-election strangeness
Wells of YouGov said this is "probably part of the strangeness of by-elections".
"Because whatever happens, the day afterwards the government will still be a Conservative-Lib Dem coalition," he said.
"By-elections, apart from in very unusual circumstances, don't change the government. They don't have any long-term impact in the direction of government or how the country is governed.
"All that voters in the constituency are doing is selecting the person that is going to be their local MP. So there is an awful lot more focus on the candidates and the qualities of your candidates and the weaknesses of opposing candidates."
All over, bar the voting
Reckless may have a fat arse, but the polls show he's sitting pretty on it. The Tory by-election plan of personalised and negative attacks looks like it's failed.
William Hill, the bookies, slashed its odds on a Ukip victory in Rochester. They have it at 1/100 for Reckless to triumph. The Tories trail by miles at 16/1.
Graham Sharpe, a William Hill spokesman, said Ukip had been at 11/10 to win after punters increasingly backed a Conservative victory. Then the negative campaigning began.
"Recently, all of the money has been for a Ukip win and their odds have now shortened to the point where they are virtually unbackable," Hill said. "It is all over, bar the voting."
A Tory surprise?
There has been a positive side to the Conservative campaign against Reckless. Their own candidate, Kelly Tolhurst, is a born and bred local who works in the area. And this is a line they've tried to push.
"That a candidate is local really does change people's votes. There's good evidence for that. People want to have a candidate who grew up in a constituency," Wells said.
And, even if Reckless wins the by-election, he is not guaranteed a victory at the 2015 general election.
Polling by Lord Ashcroft suggests many Rochester voters planning to back Reckless and Ukip are doing so as a protest vote against the Westminster elite.
This fits with a general mood of frustration and anger at the political leaders, off the back of years of financial crisis and trust-shattering scandals like the abuse of MPs' expenses. It's a mood Ukip, pitching itself as anti-establishment, has capitalised on.
When asked how they plan to vote in May 2015, Ashcroft's poll of Rochester and Strood voters found that 36% said they would probably vote Conservative at the general election, 35% Ukip and 21% Labour.
"Though Mark Reckless looks set to be returned to parliament next Thursday, the evidence is that he can expect a battle next May," Ashcroft wrote on his website.
Wyburn-Powell said that "could be very significant in terms of other potential defectors deciding whether to go or not".
"Generally, if you look back at the people who defect, have a by-election then what happens at a general election, it's about 50-50 whether they retain the seat again," he said.
"It's not an automatic done deal if they can win a by-election that they'd hold the seat later."