The Conservative peer Lord Leon Brittan has been questioned by police about the alleged rape of a 19-year-old female student at his flat in 1967, the Independent on Sunday reports.
Brittan, currently at the centre of controversy over the missing paedophile dossier handed to him by the late Geoffrey Dickens MP, was interviewed under caution but not arrested. He denies the allegations.
The IB Times reported on the allegations in May 2014 but were unable to name the minister involved, now known to be Lord Brittan.
Police interviewed Brittan – who was made a peer in 2000 – at the offices of his lawyer, Mishcon De Reya, in London, last month. It is believed the detectives who interviewed Brittan are linked with Operation Fairbank, Scotland Yard's investigation into child abuse in Parliament.
A spokesman for the Metropolitan Police confirmed the interview had taken place: "The woman was over the age of 18 at the time of the incident. The allegation is being investigated by officers from the Sexual Offences, Exploitation and Child Abuse Command.
"In June 2014, a man aged in his seventies was interviewed under caution by appointment at a central London location in connection with the allegation. He was not arrested. Enquiries continue."
This interview with Lord Brittan has no connection to Operation Fernbridge, which is investigating claims of a network of powerful paedophiles, including politicians and celebrities in the 1980s, centring on Elm Guest House in Barnes, southwest London.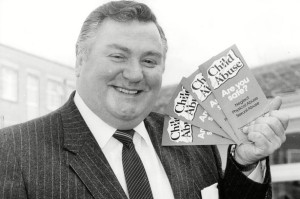 The Home Office has admitted that 114 files relating to child abuse have gone missing. Jimmy Savile and Cyril Smith are said to be mentioned in the dossier, handed to Britton in 1983. Britton claims to have passed them on to officials, but no action was taken.
Home Office permanent secretary Mark Sedwill says the files were "presumed destroyed, missing or not found,"
Over 130 MPs have now called for an investigation into why no action was taken at the time. Barry Dickens, the son of MP Geoffrey, who died in 1995, said his father would have been angry that no investigation had taken place after he personally handed the dossier to Brittan.
"I would like Lord Brittan to name the very next person he handed it on to,' Barry Dickens said. 'And where did it end up? There must have been a person who was the last to handle it.
"My father thought that the dossier at the time was the most powerful thing that had ever been produced, with the names that were involved and the power that they had."