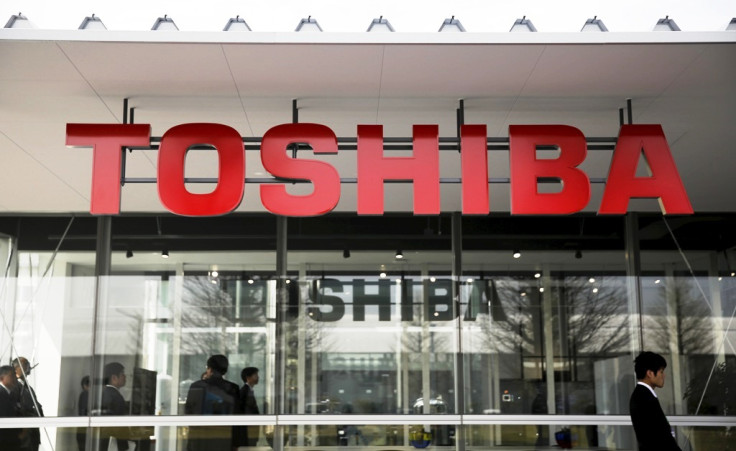 Japan's Securities and Exchange Surveillance Commission (SESC) is seeking to impose a financial penalty on Toshiba over its accounting irregularities.
The Nikkei, citing sources, reported that the securities watchdog believes that the company's attempt to delay loss-booking constituted falsifying financial statements, in violation of the law governing trading of financial products.
The watchdog is expected to launch a separate investigation into the matter after a third-party committee hired to probe into the company's past book-keeping practices, releases its report on 20 July.
Based on that report and the outcome of its own probe, the watchdog will recommend as early as September that the Financial Services Agency impose a fine on the company, the business daily said.
It added that Japan Exchange Regulation will also investigate the matter on behalf of the Tokyo Stock Exchange. The stock exchange would put the company on a watch list or levy a separate monetary penalty, if it is found to have misstated earnings.
Reuters earlier reported, citing people familiar with the matter, that Toshiba expects ¥300bn (£1.6bn, €2.2bn, $2.4bn) to ¥400bn ($3.2bn) in charges related to the issue.
However, the company said in a statement that it is yet to finalise the impact of the accounting scandal on its financial statements.
The company came under fire with its improper book-keeping practices, which allegedly led to an overstatement in profits by more than ¥170bn.
The third-party committee will also look into the role that top officials played in the irregularities, focusing on whether they had knowingly encouraged wrongdoings.
The Nikkei earlier reported that Toshiba CEO Hisao Tanaka will step down in September in connection with the scandal. In addition, more than half the board is expected to resign at the shareholders' meeting, when the company will release its earnings for the 2014 financial year.
The conglomerate, whose businesses range from laptops to nuclear energy, disclosed accounting irregularities in April, after regulators asked for a report about its past book-keeping. Since then, the company's shares have slumped about 29%.
Top officials at the company allegedly instructed subordinates to delay booking losses in the infrastructure business. They also set overly aggressive targets in new businesses such as smart metres and electronic toll booths, encouraging the understating of costs and overestimating of revenues.
"The Company expresses sincere apologies to its shareholders, investor and all other stakeholders for any concern or inconvenience caused by the investigation into the Company's accounting practices," it said in a statement.
"The entire Company will make concerted efforts to regain trust, and appreciates your continued support."