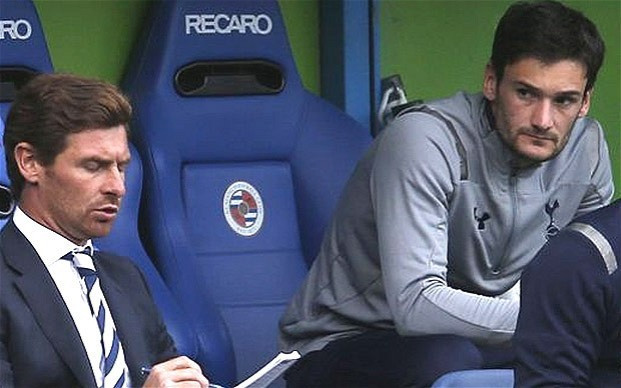 Hugo Lloris just wants to be loved. He wants his manager to show some faith in him, to put a fatherly arm around him and tell him he's his favourite. Unfortunately for the sulking Frenchman, he is not getting that at Tottenham.
For starters Andre Villas-Boas is less a father figure for players and more of an older brother. The 35-year-old is in fact younger than two of Tottenham's goalkeepers and does not seem the sort to offer a consoling shoulder to a player who has only just arrived at the club and is seemingly demanding first team football.
France manager Didier Deschamps has slammed Villas-Boas for his treatment of the national team captain, suggesting that Lloris would not even have moved to White Hart Lane had he known he would be playing second fiddle to Brad Friedel.
While rumours raged in the early weeks of the season, Lloris kept quiet as I'm sure he assumed he would soon have his chance to impress. Having failed to cement his place in the Premier League side, he too is seemingly questioning his position at the club.
"The coach of Tottenham has made his choice," said Lloris. "I'm training and I do the maximum but it is difficult and hard to accept. Such questions over my position must also be asked to the coach."
When asked whether he would leave the club, he failed to take a firm stance and hinted that his future is unclear. "I feel much at ease at the club but then again everything is possible."
Lloris has made just one league start against Aston Villa and did keep a clean sheet. However, he came under scrutiny for his performance in the Europa League victory over Maribor and it seems clear that Villas-Boas still trusts Friedel in the big games.
Every goalkeeper wants be secure in the knowledge that he is number one, yet you did not hear David de Gea complaining when Sir Alex Ferguson chose to give Anders Lindegaard a run in the side.
It is true that Lloris is far more established, having already won a Ligue 1 title and been capped by France on 42 occasions, but even he must prove his credentials in order to demand a place in the starting XI.
Now it has emerged that Tottenham's bitter rivals Arsenal were keen to secure the signature of Lloris in the summer, but, not unsurprisingly, baulked at the £12million asking price.
Lloris is unlikely to feature in the north London derby against Arsenal this weekend and it will be interesting to see how both keepers on show perform. Friedel is a seasoned campaigner who rarely makes a rash error and is still a superb shot stopper. While over at the Emirates, manager Arsene Wenger has already used three different keepers this season.
Recent reports have suggested that Wenger may look for a new keeper in the January transfer window as he is yet to be completely sold on the merits of Wojciech Sczcesny, Vito Mannone and Damian Martinez.
Wenger is sure to be aware of the talent that Lloris possesses, and could well see him as a long-term Arsenal number one. The Gunners faithful would possibly even accept a Tottenham man joining the club as he has certainly not adhered himself to Spurs fans.
Over the next month and a half we will get a better idea of where Lloris stands. If he continues to play second fiddle then the January transfer window may suddenly look very appealing. It will also be interesting see how his relationship with Villas-Boas develops as this could hold the key.
What seems certain is that the captain of France does not want to sit on the bench for an entire season to see if Friedel retires of becomes out of favour. Should he make the bold decision to quit White Hart Lane then Wenger may just be waiting with open arms.